Some 'failing heads' employed as Ofsted inspectors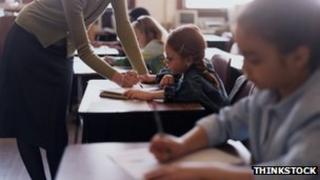 Former head teachers who have had to leave their own schools after they were found to be failing are working as Ofsted inspectors, the BBC has learned.
And a former chief inspector of schools claims some current Ofsted inspectors have no teaching experience at all.
Baroness Perry says she is reliably informed some, including ex-school secretaries and governors, have never taught a class in their lives.
New Ofsted chief Sir Michael Wilshaw promised to root out unqualified staff.
The BBC is aware of two former headteachers who were forced out because their schools were failing currently working as Ofsted inspectors.
Baroness Perry of Southwark, who is the the current chairwoman of the House of Lords backbench education committee, voiced her concerns amid an escalating number of complaints to Ofsted since the introduction of a new regime at the beginning of the year.
School secretaries
Since Sir Michael took over in January the number of schools being judged as failing has risen by 50% due to a major change in Ofsted's classifications.
And some 262 schools - around one in 12 of those inspected - have complained about their inspection.
In an interview with Radio 4's File on 4 programme, Baroness Perry said she has been told that instead of the regime being staffed only by outstanding former senior teachers, some are ex-school secretaries or governors.
"They haven't actually been teachers and can't share that classroom experience with the teachers or with the schools they're inspecting," she said.
"I'd be very interested to know how Ofsted assures itself that all the people involved in inspections do in fact meet the best of those criteria."
'Back to basics'
Most inspectors are now freelancers employed through private contractors.
In the past there was room in the system for those with no classroom experience because these "lay inspectors" as they were known, only examined areas of the school which were not related to teaching.
But inspections have now been focussed down to a few key issues including leadership, teaching and academic progress.
This means lay inspectors are now being employed to judge areas in which they have no experience.
Current chief inspector Sir Michael Wilshaw admitted Ofsted did use some inspectors who looked at issues other than teaching, but promised to root out inspectors who had never taught or who had failed as school leaders.
"If that's happening, we need to address it," said Sir Michael.
"When an inspector is in a classroom judging teaching I would expect them to know what good teaching looks like."
He added that Ofsted was recruiting to a 'national service' pilot scheme which would see more serving 'outstanding' head teachers conducting Ofsted inspections.
The revelations come amid growing discontent from headteachers' unions over the implementation of a new 'back to basics' inspection framework by Ofsted.
The BBC also spoke to head teachers who complained of Ofsted reports riddled with factual errors and inspections conducted by staff who did not appear to understand the curriculum they were supposed to be inspecting.
One principal of a large academy in Greater Manchester, who made made a freedom of information request to discover the qualifications and employment history of the senior inspectors who lead many Ofsted inspections, was told the information was not held by the organisation beyond two years.
Stephen Ball, of the New Charter Academy in Ashton-under-Lyne, made the request after he saw an Ofsted report for a large secondary school which he believed had been written by an inspector with only primary school experience.
"One can only assume that it's concealing an inconvenient truth," he said.
"And my suspicion is that there are few people leading inspections in secondary schools that have ever led them [as headteachers] and probably even fewer that have done that in a way that has been regarded as outstanding."
A spokesman for Ofsted confirmed there had been a modest increase in the number of complaints but Sir Michael Wilshaw said the majority of responses were very positive.
"This is a tougher framework, the bar has been raised," he said.
"But every school has a right to complain and there's nothing to stop them complaining.
"Remember there are 22,000 schools and the number of complaints we get are very, very few indeed."
Listen to the full report onFile on 4onBBC Radio 4 on Tuesday, 26 June at 20:00 BST and Sunday 1 July at 17:00 BST. Listen again via the Radio 4websiteor download the File on 4podcast.