New brainbox test 'is dog whistle to middle class'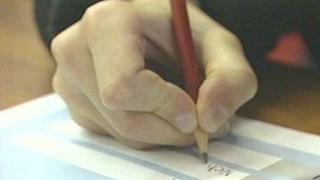 New "brainbox" primary school tests sat by about one in 10 eligible children in England this year are a "dog whistle" to the middle class, an expert claims.
The new Level 6 national tests in English and maths are set at the expected level of a 14-year-old.
The government reintroduced them this year to stretch the most able pupils.
But education expert John Bangs, of the Institute of Education, says the tests will be used to identify elite primaries.
The "brainbox" tests were taken by about one in nine Year 6 pupils in maths, and one in 11 in English this year, according to the Department for Education.
'Elite schools'
Children sat the new tests in one in 12 schools in England, after they were reintroduced for the first time in a decade by Education Secretary Michael Gove.
The tests, which are taken separately from standard Sats papers in Year 6, are aimed at the most gifted and talented primary school children.
Visiting professor at the Institute of Education John Bangs said: "They're intended to be a brainbox test.
"The intention is to send a dog whistle to middle-class parents showing these are the elite schools because they do these tests.
"It will suggest if your school is not providing the test then it's not a good school."
He added: "Sats are already high stakes tests and to introduce additional tests over Level 4 makes it more high stakes for the schools concerned."
He also said the tests were being sold as potentially being part of a child's application to academic private schools.
'Coaching classes'
And teachers say pushy parents are already pressuring teachers into entering children for the optional tests.
Helen Brook, teacher and maths specialist at a Cambridgeshire primary school, said this had happened to her.
She fears schools will be pushed into offering Level 6 papers and special coaching sessions to go with them.
"My concern is whether we end up coaching them to pass the test.
"What I've heard is that children are being coached in very small groups outside the lesson time."
Before this year teachers have only been able to judge very able pupils at the end of primary school against Level 5 - the expected level of a 13-year-old.
The Level 6 tests go way beyond that. In maths, they cover challenging topics such as algebra which are not contained in the usual primary school curriculum.
A Department for Education spokeswoman said: "We want schools to stretch their most able pupils. It is hugely important that every child is given the opportunity to realise their full potential.
"We trust that schools will only enter pupils who they believe are working significantly beyond Level 5."
She said it followed on from Lord Bew's review of primary school testing which said it was "crucial that the most able pupils are challenged effectively and that the system is able to recognise and celebrate their progress".
Deputy general secretary of the Association of Teachers and Lecturers Martin Johnson said: "We are not opposed to the idea that if you have a got a particularly talented youngster in your Year 6 that you shouldn't do things to stretch them.
"It is the question of formalising that in a test."