City schools scheme 'more effective than academies'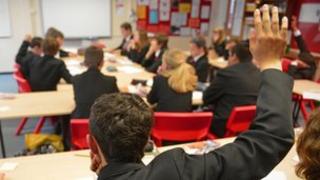 The government has been urged to reconsider whether sponsored academies are the best way to boost weak schools.
Figures suggest results in England's sponsored academies rose more slowly than in some other poor performing schools, a study claims.
Researchers at London Metropolitan University said results rose fastest in schools in the City Challenge programme which ran in some areas until 2011.
The government said: "We are building on the best of what we had before."
City Challenge ran in London, Manchester and the Black Country from 2008 to 2011. In the capital, a similar programme, The London Challenge began in 2003.
'Poorest performing'
The researchers, from the Institute of Policy Studies in Education at London Metropolitan University, drew on government data to compare GCSE improvement rates for the poorest-performing fifth of schools between 2008 and 2011.
These were schools where in 2008 fewer than 32% of pupils achieved five A* to C GCSEs including English and maths.
The research team says its analysis suggests that pupil attainment in the underperforming schools supported by City Challenge improved significantly more than it did in other weak schools, including sponsored academies.
By 2011, the secondary schools that had been in City Challenge programmes improved their exam results by 4% more than schools, including sponsored academies, that had not, says the study.
Some of the secondary schools supported by City Challenge programmes subsequently became sponsored academies, but they did not improve significantly more than other schools supported by the scheme, the researchers found.
Lead author Professor Merryn Hutchings told BBC News: "What we are showing is that there is an effective way to improve schools through support and expert advice as happened with City Challenge.
"The current government's policy is to turn weak schools into sponsored academies. Our data suggests that this has been effective only in those schools that had previously been supported through City Challenge."
The report, Evaluation of the City Challenge Programme , was commissioned by the Department for Education.
City Challenge was designed to "crack the associated cycle of disadvantage and underachievement" by reducing the number of underperforming schools, increasing the number of good and outstanding schools and improve educational outcomes for disadvantaged children, says the report.
The report defines the programme's strategy as providing external experts to work alongside existing head teachers to assess each school's individual needs and to set up bespoke support programmes which included mentoring by head teachers from better performing schools.
A spokesman for the Department for Education said: "For too long children from the poorest backgrounds have been left with the worst schools.
"We are building on the best of what we had before. We have introduced the Pupil Premium to ensure every school is equipped to support pupils from the most disadvantaged backgrounds. The Pupil Premium has increased to £600 and been extended to many more children.
"We are also transforming the worst-performing schools with new leadership as academies and free schools.
"This gives parents and teachers the power to make decisions that are right for local children. The most recent data available shows that the attainment rate for pupils on free school meals in academies improved by 8.3 percentage points between 2009 and 2010."
The report says that programme was particularly successful in London where it ran for eight years, first as the London Challenge and later as City Challenge.
According to the researchers, London schools now perform well above the national average while pupils on free school meals do better than in any other region.