Colleges failing to find job seekers work, says Ofsted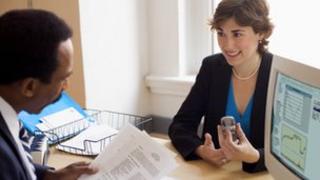 Colleges in England are failing to put job seekers on courses that help them find work, inspectors warn.
Instead, these adults are being offered basic classes which simply lead to qualifications or more training, a report from the watchdog Ofsted says.
Fewer than one in five job seekers found employment after taking courses at further education centres, it found.
It follows a push by ministers to get colleges to prioritise vocational training for unemployed adults.
In August last year, the government launched an initiative inviting further education (FE) providers to offer work-based training to help the unemployed into work.
Assessing the efficiency of these schemes, Ofsted inspected 45 education providers including colleges and local authority providers of adult and community learning.
The watchdog found many centres were not offering adults challenging courses that were likely to increase their chances in the workplace.
Only 15 properly assessed adults when they first arrived at the centre for prior knowledge, employability skills and barriers to employment.
Poor records
Inspectors said too many providers did not have effective systems in place to track job outcomes and record how successful the employment had been.
Of the 45 centres visited, 31 were able to provide figures on job outcomes for courses completed by unemployed people.
And of these, job outcomes ranged widely - from 1% of 416 leavers at one to 46% of 443 leavers at another. Out of 10,270 job seekers at these 31 colleges and other FE centres, 19% found work.
"Progression to employment was not a high enough priority," the report concluded.
"Too many programmes focused on the achievement of qualifications and the funding did not extend to training which led to job-focused licences.
"While the employability programmes provided good support in job search skills, they generally failed to tackle participants' often deep-seated barriers to employment."
Back to work
Matthew Coffey, Ofsted's national director of learning and skills, said: "Currently 8.2% of the population are unemployed, with latest figures showing that of these, 1.41 million have been so for more than six months.
"Ofsted's Skills for Employment report aims to assess the efficiency in matching unemployed adults to courses to develop their skills, enabling them to find suitable employment.
"We found that many courses simply led on to more courses and did not address the urgency to get unemployed adults back into work."
Martin Doel, chief executive of the Association of Colleges, said: "Colleges in England provide work-related education and training for more than 220,000 unemployed people a year.
"In one of the deepest and most sustained recessions in decades, the work our members do in this area is crucial to getting both individuals and the UK economy back on track.
"Ofsted's 'Skills for Employment' report addresses a number of issues that our member colleges have been concerned about for some time, namely the difficulties they face in being able to arrange work experience for students, the barriers jobseekers sometimes face in getting the training they need and colleges being funded to deliver national programmes of study that do not always meet local employment needs."