Parenting support 'should not just be for poorest'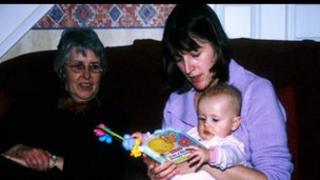 The government has been urged not to focus just on the poorest families when it comes to supporting parents and improving child development.
A report by the Institute of Health Equity sets out key development goals that children should reach by age five.
The authors say parents need more support and targeting help just on the poorest will miss most of the problem.
The government responded: "We make no apology for targeting support where it is most needed."
Last year the Marmot Review, by the same authors, showed that 56% of children in England were reaching what teachers considered to be a good level of development by the age of five.
Key milestones
That report linked good development at age five with better outcomes in health, education and employment in later life.
It also found that children from higher socio-economic groups were more likely to have reached key milestones than others.
For example in wealthier areas such as Richmond upon Thames and Solihull in the West Midlands 69% of children achieved a good level of development - but that figure dropped to 42% in the London Borough of Haringey.
The new report sets out a framework of key milestones that children should reach by five. Crucially the framework also spells out what parents should do to boost their children's development and lists what support parents need in order to help their children.
The authors argue that focusing this support solely on the most troubled families will not be enough as "inequalities are not concentrated at the bottom of the socio-economic spectrum in a specific group of poor or problematic families.
"There are inequalities in outcomes between the top socio-economic groups and everyone else and the gap between those groups is growing relatively wider and more entrenched.
"Policies that are universal and proportionate to increasing need are critical to reducing those inequalities."
The authors say their report is aimed at staff and managers at children's centres and local authorities working to support families on the ground.
The framework says for example that by five children should be developing crucial skills, from drawing and copying, speaking and writing to self-management and self-control.
Successful parenting
The authors also want more parents to talk to their children "using a wide range of words and sentence structures", more parents to read to their children every day and more parents "to engage positively with their children", to listen to them and to set boundaries including regular bedtimes.
The report also acknowledges that successful parenting is more likely if parents are not stressed, have good mental health and good support networks.
The authors want to see more support for parents' well-being and more help to improve their basic literacy and numeracy, employment prospects and parenting skills.
Professor Sir Michael Marmot, director of the Institute of Health Equity at University College London, said: "This framework addresses the fact that we are currently failing our children on a grand scale. It is ambitious, yet practical. It will be of particular use locally as discussions about resources continue."
Gerry Allen of Knowsley Council, Merseyside, welcomed the framework: "I am a really keen advocate of this. We want something that will enable to us to work consistently and help us make the case for better funding for children's centres."
A spokeswoman for the Department for Education said: "It's vital for all young children to have the best start in life, which is why we are rolling out free early education, backed by more than £1bn, to help children and their parents.
"Too many disadvantaged children are missing out on high quality early education.
"We have increased the free entitlement for all three and four-year-olds to 15 hours per week and are extending this to 260,000 two-year-olds by 2014-15, precisely so we can close the gap between children from different backgrounds."