Adoptions in England and Wales rose 6% in 2011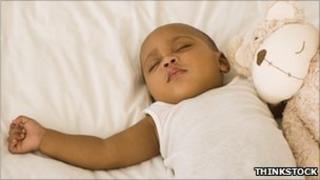 The number of adoptions in England and Wales rose 6% in 2011 to 4,734, according to official figures.
The data from the Office of National Statistics also showed 62% of adoptions were of one to four-year-olds and only 2% were of babies under a year old.
The government has pledged to speed up the adoption process.
A Department for Education spokesman said: "We want to create a more effective and user-friendly adoption system."
The number of children adopted in 2010 was 4,481 and 58% were aged between one and four.
The figures show the number of adoptions of children aged between one and four has increased steadily from 1998, when only 34% of adoptions were of this age group.
The proportion of adoptions of all other age groups has decreased during the same period.
In 1998 babies aged less than a year made up 5% of adoptions. By last year that figure was 2%. Children aged five to nine made up 36% of adoptions in 1998 and 23% in 2011. The figures for 10- to 14-year-olds were 21% in 1998 and 10% in 2011.
Early adopters
Last month the prime minister said new-born babies taken into care should be fostered by people who wanted to adopt them.
David Cameron said the law in England would be changed to encourage more councils to do this - so more babies could find a loving home earlier.
He said he found it "shocking" that so many babies taken in to care at one month waited another 15 months to be adopted.
The government also intends to simplify and speed up the adoption process.
It wants babies to be placed with prospective adoptive parents before the courts have decided to remove them permanently from their natural parents.
A statement from the Department for Education said the government wanted "a system which is truly fit for purpose".
"Adoption can be a lifeline for vulnerable children and we are determined to see more children considered for adoption, particularly those who may previously have been overlooked.
"We are committed to overhauling the entire adoption system to give more vulnerable children the chance of a loving, stable home with adoptive parents.
"That's why we are changing the law and calling for urgent action - both from local authorities and from potential adopters - to reduce barriers and delay in the adoption process."
Last month Debbie Jones, president of the Association of Directors of Children's Services, said some local authorities were already taking steps to place children with families who would become adopters earlier in the child's journey to adoption.
She said: "This process will not be right for all children or all adopters, but can offer the benefits of early permanence for some."
Adoptions in Scotland also increased by 6% in the same period - from 466 in 2010 to 494 in 2011. No figures were published for Northern Ireland.