Plans to overhaul primary maths are 'seriously flawed'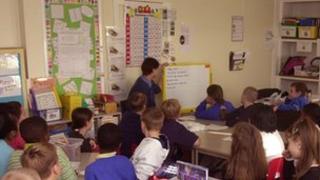 A campaign group promoting maths has attacked plans to overhaul maths teaching in primary schools in England as "undeliverable".
In a letter to the Education Secretary, Michael Gove, National Numeracy says the draft curriculum is "overloaded" and relies too much on rote learning.
The curriculum, due to come into force in 2014, expects children to know up to the 12-times table by the age of nine.
A government spokesman responded: "It is high time rigour is restored."
National Numeracy says the plans are "seriously flawed" because they rely too much on rote learning.
The group says that rather than raising standards the new curriculum could in practice prevent pupils from developing a strong underlying understanding of mathematics or from having the confidence to apply mathematical theory to everyday problems.
Concepts 'atomised'
It also says that key maths concepts that primary pupils need to learn have been "atomised" with no links between different ideas.
The letter urges the government to revise the plans significantly even if it means delaying the introduction of the new curriculum.
It calls on the government to study methods used in countries with more successful maths teaching such as Singapore and New Zealand.
Chief executive Mike Ellicock said: "Learning concepts like times tables is useful and can be used in everyday life.
"But just learning something because that's what we've always done is questionable."
The draft plans were first published in June for informal consultation. The government intends to submit the full curriculum for formal consultation in the new year.
A Department for Education spokesman said the new curriculum would drive up standards for all children: "The plans for primary school maths will put our curriculum on a par with the best in the world, including the one in Singapore.
"It is high time rigour was restored - children must know their times tables up to 12 off by heart, know how to multiply and divide fractions, and have good mental arithmetic. A solid grounding in the basic means children can then move on to more complex maths concepts."
The shadow education secretary, Stephen Twigg, said: "Instead of a rigorous approach based on evidence, David Cameron and Michael Gove want to take us back to out-of-date teaching methods.
"Employers tell us we need to improve pupils' maths skills, but we will never compete with the best in the world or prepare young people for the jobs of the future by only looking to the past."
National Numeracy was founded earlier this year with the intention of improving mathematical skills and attitudes to maths among the general public.