A-level results: Three-quarters of degree places filled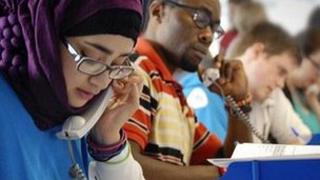 More than three-quarters of university places have been filled - but fewer students than last year seem set to compete for places in clearing.
Ucas admissions service figures, up to the end of Friday, showed that 380,000 students have had places confirmed.
There are 74,000 students still waiting to hear whether they have been accepted or rejected - and a further 169,000 are eligible for clearing.
Ucas says there are now more courses available in clearing than last year.
"The combination of fewer applicants and the lifting of number controls for higher achieving candidates means there are many more courses with vacancies in clearing this year," said the Ucas chief executive, Mary Curnock Cook.
"We expect the overall acceptance rate for applicants to rise."
Clearing places
Figures from Ucas at the end of Friday showed there were 380,000 students accepted, including overseas students - down by 7% compared with last year at this stage.
The total number of places to be filled this year is expected to be about 500,000.
This year has seen changes to the admissions process - with universities allowed to recruit an unlimited number of students with AAB A-level grades or better.
Even though many universities are not using this flexibility there has been uncertainty about how this might affect the allocation of places.
The numbers of confirmed places is so far lower than at this stage last year - with the suggestion that some universities are pausing over their awarding of places.
There are financial awards still on offer from some universities to students with AAB grades.
The number of students with these AAB grades is believed to be lower than expected - which will have implications for the number of places available for other students.
'Systems were slow'
There were also technical delays which meant that some students could not see whether their places were confirmed.
De Montfort University had used Twitter to air concerns about technical problems facing applicants.
Nicola Dandridge, chief executive of Universities UK, said: "Results day is a stressful time, so we were very concerned to learn of the disruption to the Ucas service yesterday, and I sympathise with anyone who has encountered problems."
In response to the problems, Ucas issued a statement: "Systems were slow yesterday and some decisions were not processed very quickly.
"This meant that some students could not check to see whether or not they had a place at university."
There were also problems at the University of Ulster, where an error saw 370 students offered places which were then withdrawn.
The University of Ulster said that an acceptance email had accidentally been sent to some applicants who were not being offered places.
But a day after A-level results, across the university system, the overall number of students waiting to hear a decision was broadly similar to the previous year.
Grade deflation
For students who missed out on their required grades and are rejected, the clearing system tries to match them with available vacancies.
The clearing process has so far found places for 9,000 students - and this will continue in the forthcoming days and weeks.
The figures from Ucas suggest there will be fewer students competing for places in clearing this year - without about 29,000 fewer people eligible for clearing than at this stage last year.
The admissions service says that there are more courses with vacancies available through clearing than last year - but it is not known whether the total number of available places will be higher.
Last year there were about 50,000 places available through clearing.
The A-level results published on Thursday showed a slight fall in the proportion of entries gaining the top A and A* grades - the first such decline in 20 years.
Students in England beginning university courses this autumn will become the first intake to pay the higher tuition fees of up to £9,000 per year.