Teachers reject 'pointless' new phonics check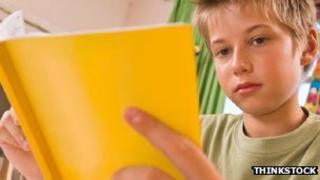 England's new primary phonics test risks doing "long-term damage" to children's reading, teachers' leaders say.
Association of Teachers and Lecturers head Dr Mary Bousted says fluent readers can fail the test as they think the test's non-words are misprints.
A poll of about 1,500 Year One teachers suggested 90% had discovered nothing new about pupils' reading abilities.
The government says phonics - blending sounds to read words - is vital.
Most teachers from the ATL, National Association of Head Teachers and the National Union of Teachers who were polled on the issue said they feared pupils who failed the test would have their confidence dented.
Nonsense words
Nearly nine out of 10 teachers said they practised nonsense words in the run up to the test.
Words like spron, fape and thazz were included in the test designed to check pupils' abilities to decode using phonics.
And four out of 10 admitted drilling phonics in the week prior to the test.
One Year one teacher said: "Some able readers failed and some non-fluent, less-able readers passed! What does that prove?
"It proves synthetic phonics is only part of a variety of strategies used in learning to read."
Another teacher said: "I was willing to try it to see if it helped the children and if it helped inform my planning and assessment.
"It was a waste of time and money - (I had to have) a supply teacher to cover me - and had a negative effect on several of the children in my class."
A Year One teacher said: "Many children made mistakes trying to turn the pseudo words into real words - 'strom' became 'storm'."
Some 86% of those polled believed the screening check should not be continued.
Russell Hobby, general secretary of the National Association of Head Teachers (NAHT), said synthetic phonics was an essential contribution to helping most children learn to read.
"This test, however, is another matter. It is inaccurate and unnecessary. It distorts the teaching and measurement of reading. A life-long love of reading, as well as fluency, is built on more than decoding.
"It is built on the pleasure of a great story, something that ideology is now crowding out of the early curriculum."
Christine Blower, NUT general secretary, said: "The phonics check must be scrapped. The results of this survey provide stark evidence that schools are being made to squander money on what they know to be an unreliable 'progress report'."
The Department for Education maintains that international evidence demonstrates that phonics is the most effective way of teaching early reading.
Schools minister Nick Gibb has said in the past how crucial it is for children to master the basics of reading as early as possible so they can go on to develop a real love of reading.