Teachers to strike over pay and conditions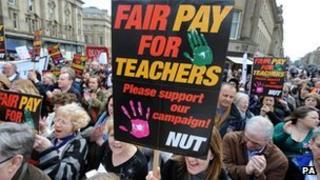 Teachers in England and Wales have voted to go on strike over what they are calling the "erosion" of their pay and working conditions.
The National Union of Teachers (NUT) said that 82.5% of the members who voted were in favour of walkouts. The turnout was 27%.
They will campaign alongside the other big teachers' union, the NASUWT, to safeguard their profession, they said.
The result raises the threat of disruption to schools later this term.
NUT general secretary Christine Blower said her union had been left with no option but to "protect the well-being" of her members.
'Negative approach'
"Teachers are being undermined by a government whose almost daily criticisms and erosion of working conditions and pay, coming on top of previous attacks on pensions, are unacceptable," she said.
"This negative approach to the profession has to stop.
"No other profession comes under such continual scrutiny and no other profession has accountability systems based on so little trust."
The NUT took national strike action over pensions and pay in June of 2011, along with several other unions, closing thousands of schools. In November, teachers in London went on strike.
NASUWT union general secretary Chris Keates congratulated the NUT on the positive strike ballot.
'Disappointed'
"This result is the reflection of two years of sustained assault from the government which has been deeply damaging to teacher morale, as well as to recruitment and retention," she said.
Both unions are due to set out their next steps on Monday, but both voted separately for further action at their annual conferences last Easter.
A Department for Education spokesman said: "We are very disappointed that a small minority of NUT members has voted this way.
"Industrial action would disrupt pupils' education, hugely inconvenience parents and will damage the profession's reputation in the eyes of the public."