Middle age begins at 55 years, survey suggests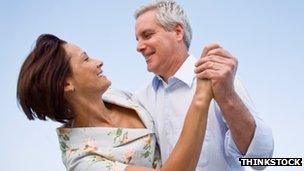 Middle age starts much later than previously thought - at the age of 55, research suggests.
And Britons do not see themselves as elderly until they are nudging 70, the survey of 1,000 UK adults aged 50-plus for the Love to Learn online learning website says.
Previous studies have pinpointed the start of middle age as early as 36.
The research suggests that as the population ages, new cut-off points are being drawn.
According to official national data, there are now more adults over 65 than there are under-16s.
Although seven out of 10 early 50-somethings quizzed for the survey defined themselves as middle-aged, the average age at which the period of life was perceived to start was 54 years and 347 days old.
However, a sizeable minority, nearly one in five, thought middle age did not begin until after the age of 60.
But almost one in five (19%) said that being middle age is a state of mind, rather than something that begins at a certain age.
The research also asked the panel at what age they thought middle age ends. The average came in at 69 years and 277 days.
This suggests middle age itself now spans 14 years and goes well beyond the government's planned state pension age of 66.
Recent research from charity Age UK, looking at how Europeans categorise themselves, found the average age at which old age is perceived to start is 62. But there was less consensus on when youth ended, ranging from 34 in Sweden to 52 in Greece, with an average of 40.
However the Love to Learn research also found that adults in their 50s were upbeat about the benefits of their age group.
Gill Jackson, director of new online course provider Love to Learn, said: "More than half said they have more confidence and experience than younger people and are less afraid of making mistakes."
John Craven, who is supporting the website's launch, said the concept of ageing had changed: "Only a generation ago, many people were pretty old at 60.
"These days most of us in our middle and later years are much younger in our attitudes and it's all about having an active state of mind."
But some older people still appear to be haunted about by obstacles from their past, such as failing the 11-plus school entrance exams.
Decades after the event, nearly half of those who did not pass the grammar school entry test said it brought back negative emotions. And one in five said it had put them off learning permanently.
Related Internet Links
The BBC is not responsible for the content of external sites.