'Keep arts at heart of curriculum' says Nicholas Serota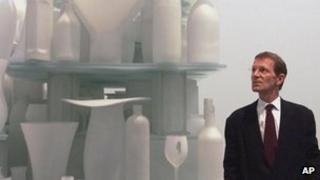 The director of the Tate art galleries has urged the government to include the arts in the English Baccalaureate qualifications that will replace GCSEs.
Sir Nicholas Serota warned the UK could lose its "leading edge in creativity".
Last week Education Secretary Michael Gove announced the English Baccalaureate, would be taught in schools in England from 2015,
Initially covering English, maths and the sciences, they will later include history or geography and a language.
Speaking at the launch of the Tate's annual report, Sir Nicholas voiced fears there might no longer be room in the school timetable for art, design, dance, drama or music.
Arts 'fundamental'
The arts enabled young people to express themselves, which was fundamental to achieving success in later life, he said.
"There is a real risk that fewer and fewer schools will provide learning opportunities in the arts. The UK's leading edge in creativity may be lost," Sir Nicholas added.
"We cannot deprive an entire generation of children of the cultural skills that they will need."
Sir Nicholas referred to February's report on arts teaching in schools written for the government by Darren Henley, of Classic FM.
The report gave a firm endorsement of the importance of cultural learning in the curriculum and received a favourable response from government - but Sir Nicholas said he was concerned its proposals would not be implemented.
Sir Nicholas said there was evidence the arts were central to a rounded curriculum.
Pupils at schools where the arts were integrated into the curriculum showed stronger performance in maths, English, critical thinking and verbal skills, he added.
"We know that there is a great body of evidence now that has been gathered over the past 20 or 30 years which demonstrates that, where you have schools which give time to cultural learning, there is benefit both in that sphere and also to the other disciplines," Sir Nicholas said.
"By making art a part of the national curriculum, we give the next generation of artists, designers, engineers, creators and cultural leaders the opportunity to develop the imagination and skills that are vital to our future."
The government says its reforms are in line with Mr Henley's recommendations.
A spokeswoman for the Department for Education said: "We have chosen core academic subjects to be part of the English Baccalaureate Certificate (EBC), and these subjects will set the benchmark for the whole system.
"Other subjects are of course valuable and pupils will continue to study them - the EBC will obviously not prevent any school from offering qualifications in art, design, dance, drama and music.
"We are spending £15m over the next three years to ensure that every child has access to the arts, including £3.6 million for schools to use towards visits to museums and galleries.
"We are also providing more training and support for teachers to improve the quality of arts education in schools and funding Saturday art and design clubs for talented young people in the most deprived areas."