Don't handicap private pupils, says leading headmaster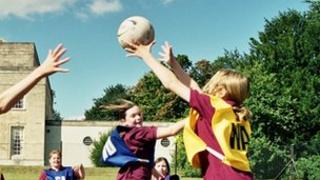 Handicapping private school pupils for university admissions risks replacing "one type of perceived unfairness with another", a top headmaster has argued.
Christopher Ray, of Manchester Grammar School, said favouring state pupils would not necessarily broaden universities' social mix.
Dr Ray argued the real problem was too few good schools.
He told the Headmasters' and Headmistresses Conference private schools were beacons of excellence.
Dr Ray argued that manipulating university admissions was not guaranteed to improve social mobility.
He accused Prof Les Ebdon, director of the Office for Fair Access (Offa) and Alan Milburn, the government's social mobility tsar, of "standing firmly in favour of manipulation".
"Alan Milburn said that the problem with social mobility is that there are not enough good schools: correct this and all else follows. So far, few would disagree with him," Dr Ray told the HMC conference in Belfast.
"In the meantime, so we are told by Milburn, Ebdon and others, we may have to use a degree of force to persuade universities to be more representative of the social make-up of the UK.
"Such men stand firmly in favour of manipulation to achieve their ends. Equality, we are told, is too important to do otherwise.
"Those less advantaged should now be advantaged and the advantaged may have to be disadvantaged."
Dr Ray added said that "The very success of independent schools... is a cause for concern in the minds of others. In recent months we have been accused of enjoying rather too much success."
In particular he mentioned complaints in the media about private school pupils achieving better exam results, better jobs and more Olympic medals than state pupils.
'Handicapper General'
He quoted from Kurt Vonnegut Jr's short story Harrison Bergeron, contained in the novel Welcome To The Monkey House, which says by 2081 "everybody was finally of equal strength intelligence and beauty" due to the "unceasing vigilance of the United States Handicapper General".
"I do wonder who is applying for the post of UK Handicapper General at the moment," he said.
Dr Ray later said he would not be giving names, but that there were "many candidates".
On Monday the HMC's universities spokesman told the Daily Telegraph that private schools might potentially boycott institutions that discriminate against their pupils.
Such a move would echo action taken nine years ago when thousands of privately-educated teenagers were dissuaded by their schools from applying to Bristol University.
Under government changes to university funding, all institutions in England planning to charge more than £6000 a year in fees must spell out how they intend to ensure that poorer students are not priced out.
These access agreements often include targets on improving the recruitment of students from disadvantaged areas.
Prof Ebdon, Offa director, said: "Fair access is about identifying potential wherever it is found. It's about making sure that talented people have the opportunity to access the life-changing potential of higher education, whatever their background.
"Let's just remember that the most advantaged 20% of the young population are now around seven times more likely than the most disadvantaged 40% to attend the most selective institutions. It's a big gap and it's a gap that has got worse over recent years rather than better.
"To help close this gap - and make sure they're recruiting the very brightest candidates - universities set themselves a range of targets based on their understanding of where they need to improve on access or, in some cases, retention.
"There is no single perfect measure of access performance and that's why Offa encourages universities to set themselves a range of targets.
"In isolation, one target may not sufficiently capture a university's ambition. For example, as we point out in our guidance to universities, it is conceivable that a university could improve its proportion of state school students without recruiting greater proportions of students from disadvantaged groups."