Children in care run away 'despite risks'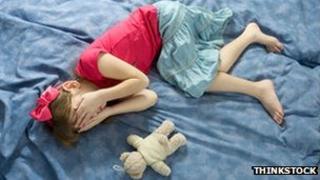 Children in care are running away from placements despite being well aware of the dangers of sexual exploitation, drugs and gang culture, a study finds.
The report, by the children's rights director for England, found they ran away for many reasons, such as stress, anger and unhappiness at being in care.
Roger Morgan said the welfare of children and young people in care was paramount.
Ministers are overhauling the residential care system.
Mr Morgan's research gathered views from 62 girls and 36 boys from different ethnic backgrounds and in different types of placement.
The children identified many dangers associated with running away - getting raped, being sexually exploited, being stabbed, being kidnapped, being taken and trafficked for sex, being murdered, getting involved in drugs or being made pregnant.
But issues such as anger, stress, fear of people living in the same placement, feeling "you don't get what you want or need in your placement", not being listened to, being scared and getting away from bullies were felt to justify the risks associated with running away.
One child told researchers: "When you run away you think it leaves your problems behind, but it doesn't."
Another said: "It shouldn't take running away to get your problems sorted."
Some of the children surveyed said they thought children ran away because they were not happy with the arrangements for contact with their families and wanted to see them more or to see members of their families they were losing contact with.
Some thought that this was especially a problem for younger children, who were less able to maintain contact for themselves and had to rely more on what was arranged for them by carers and social workers.
One young person said they had been afraid that they were going to be rejected by the people looking after them, so ran away because "I wanted to be the person ending it rather than being rejected".
'Only solution'
Mr Morgan said: "There has been a lot of concern lately in the media, in government and local councils about the risks children face if they run away and I am reporting children's own views and experiences to councils and the government.
"The answers to many of our questions often produced the same answer - that for some children running away was the only solution to escape something they couldn't cope with."
Children's Minister Edward Timpson said: "We have been very concerned that some local authorities and care homes are letting down children by failing to act as a proper 'parent'.
"We are talking about often very damaged young people who need a stable, loving and permanent home.
"This is a very important report - which makes clear that carers and social workers need to listen and address children's concerns as early as possible, before it reaches the crisis point of them feeling they have no option but to run away.
"We have launched a major overhaul of the residential care system to protect children - in particular to address issues around local agencies not having a grip on how many are going missing from care nor for proper alarms to be raised and action taken when teenagers run away multiple times."
Figures published by the Department for Education last month show the number of children in local authority care in England rose by 2% from 65,520 last year to 67,050 this year.