London boroughs demand power to support weak academies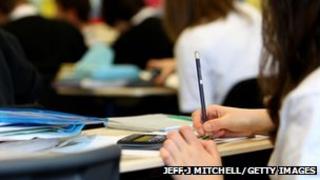 London councils have demanded powers to intervene in weak academies before they begin to fail.
Problems at academies, which are funded by central government but privately run, may not be spotted in time, say leaders of the 33 London boroughs.
At the current rate of change all London's secondaries could be academies by 2014 and all primaries by 2022.
"Excellent schools are vital to keeping London competitive," said Steve Reed, leader of Lambeth Council.
Council leaders from across the political spectrum agreed a joint proposal to combat their concerns that struggling academies risked falling through the cracks in the changing education system.
"Government and Ofsted do not have the capacity to monitor the performance of all schools across the country and identify early warning signs of failure. It is critical that support and challenge is offered to struggling schools at the earliest possible moment to minimise the disruption to pupils," says the document from the umbrella body London Councils.
It calls for academies to be subject to the same mechanisms as other schools, "written into their funding agreements, to ensure that early signs of failure are acted on in whatever type of school they appear".
'Places crisis'
The 33 local authority leaders also called on the government to recognise the essential role of councils in education, particularly in tackling the capital's school places crisis.
They point out that London's schools have improved dramatically over the past 10 years to become the best in England. They complain that despite this, "the government is slowly removing the role of councils in education and failing to provide enough money to meet the need for school places and space is running out".
Without further action, they predict a shortfall of 90,000 places in London by 2015, with one in 10 children without a permanent school place.
Many of the new places will be provided by free schools and academies and while the borough leaders agreed to help them open in areas where they were needed, they demanded these schools be accountable to local communities and local authorities. They also urged that funding be focused on areas with the most acute shortage of places.
Steve Reed, London Councils' executive member for children and young people, said: "We want to make sure that local schools continue to improve and that every child is able to find a good quality school place near to where they live.
"This will not happen if Michael Gove by-passes local democracy by centralising control of schools in his own hands, and it will not happen if Mr Gove funds new schools in areas where they are not needed while denying new schools to children in areas where the shortage of places is most severe.
"Academies and free schools must be open with parents about how they are performing so parents can make informed choices about which schools they trust to educate their children. These schools are funded with public money and they must be publicly accountable for it.
"We need the government to understand that local councils have a key role in making sure all schools are accountable to the communities they serve."
A Department for Education spokeswoman said: "Where there is a need to address academy performance, we will work with the school to help them improve their governance arrangements.
"Ultimately if performance and governance are not improved, we can issue a notice warning that ministers expect substantial improvements in a school or it faces intervention."