Loughton and Twigg call for more protection for children on TV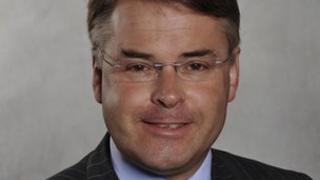 The former children's minister Tim Loughton and Labour's education spokesman Stephen Twigg are calling for better safeguards for children working in the media and entertainment.
The Savile case - and others - show the need for such change they say.
Mr Loughton has said he is "frustrated" he failed to persuade the Education Secretary Michael Gove to update the existing 40-year-old rules.
The Department for Education says it is still considering changes.
But a spokeswoman added that nothing the department was looking at "would have had any bearing on the Savile allegations".
Mr Loughton, who lost his post in the last reshuffle, says he put forward proposals to improve regulations on children and young people working in entertainment earlier this year and was frustrated they were not taken forward.
He told BBC Breakfast the existing rules were bureaucratic - and largely ignored.
"As things stand, a lot of children who are involved in performances are actually breaking the law, and it's a complete lottery around the country, because this is down to licences being issued by local authorities," he said.
"Things like chaperones who need proper training, and it's not clear that we've got a consistently high level of training and standards across the whole."
"I tried to persuade Michael Gove to bring that into law. I wasn't able to do that, so what I'm now going to do, is to bring forward a Private Member's Bill in the House of Commons as a matter of urgency to see if we can get this stuff into law to make sure that everybody is following the rules, that we've got good quality child protection happening in all sorts of TV, film, panto, on the stage, so that children are safe."
He added it was important that the laws should not be "excessively bureaucratic".
Exploited
Labour's Stephen Twigg says he will look at the details of the bill and is calling for MPs from all parties to unite to bring in better safeguards.
In a speech on Wednesday he said: "We will consult with the media and entertainment industries and with local authorities to ensure we get this right, but it must be a priority."
Referring to the Savile abuse claims, he said: "The terrible truth is that the claims that something like this couldn't happen today don't stand up to scrutiny.
"Recent child abuse cases, like in Rochdale, show how power relationships are still exploited, and young people, particularly girls, are too often ignored when they come forward."
A spokeswoman for the Department for Education said officials were still looking at child performance legislation.
"We issued a consultation in May on a new framework which will leave strict laws on children involved in professional broadcasts in place," she said.
"The government is considering the responses to the consultation and will announce plans in due course. Nothing the Department for Education has considered would have had any bearing on the Savile allegations."