Heads doubt Ofqual's claims on GCSE English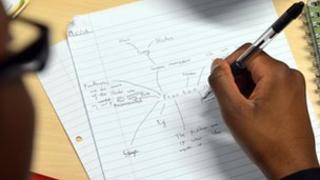 Head teachers are challenging the credibility of Ofqual's version of the GCSE English exam controversy - saying that exam board reports confirm the reliability of teachers' marking.
They say such moderation reports prove the accuracy of teachers' marking.
Ofqual's report concluded there had been "significant over-marking".
But the AQA exam board confirmed that its moderators found fewer than 5% of teachers' assessments for English GCSE had needed to be adjusted.
East London head Kenny Frederick, backed by head teachers' organisations, is challenging the exam regulator to produce evidence to back claims schools have been too generous in marking.
Head teachers' leader, Brian Lightman, said that many schools are now saying that their assessment was judged as "exemplary" by moderation - but were then downgraded.
"If schools can't trust feedback from moderators, what can they trust?" said Mr Lightman.
Last week's report by Ofqual into the GCSE English controversy, defended its decision to change grade boundaries and blamed over-generous marking in teachers' assessments.
An Ofqual spokeswoman said on Tuesday that "the over-marking was significant enough to make awarding difficult".
Evidence challenge
But heads are calling for Ofqual to show the evidence of where this has happened.
Ofqual commissioned research for the report into schools adversely affected. This was carried out by a research consultancy which spoke to teachers in 100 schools and colleges - but this does not appear to have looked at any actual exam papers.
Ofqual's claim that there was over-marking seems to come from the exam boards - which also have a moderation system in place to prevent this.
AQA's evidence identified "strategic marking" by teachers in "some centres".
But teachers have asked why, if there was evidence of over-marking in some exam centres, that this was not tackled in these specific places - rather than reducing grades across all schools.
"Are you suggesting that all schools have behaved in this way? If not, then why were we all treated the same way?" asked a Bolton deputy head.
Ms Frederick, backed by the National Association of Head Teachers, is calling on other head teachers to publish their moderation reports - and says that Ofqual's leadership is losing the confidence of schools.
She wants schools to produce evidence to their local communities which they say would challenge Ofqual's account of the changes in grades.
Ms Frederick has released the moderation feedback from her own school, George Green's School in Tower Hamlets. Exam board moderators check a random sample of candidates to make sure that assessments are in keeping with expected standards.
"The centre is to be commended for the way it elicited detailed responses from students to substantial texts," wrote the exam board moderator. Teachers' annotations had "enabled the moderator to understand how and why the centre had awarded marks" - and said that some of the work had been "outstanding".
But when the results were published - it showed there were 19 pupils who missed out on a projected C grade in English. This was in a school where exam grades have been rising.
Heads say that such individual pupils have become the victim of an unfair manipulation of this summer's grades.
Ms Frederick says the moderation report shows that teachers' assessments had been checked and verified by the exam board - in this case AQA - and called on Ofqual to provide evidence to show why such moderated assessments should then be downgraded.
'Poorly led'
Ofqual's report last week found that: "Most centres that we interviewed did not have their marks for the controlled assessment changed through moderation.
"The majority of centres took this to mean that their marking had been accurate. On the whole, teachers had received letters from the Awarding Organisations saying that their marks had been accepted without adjustment."
Such feedback - which gave schools the impression that grades were being confirmed - had "created problems", Ofqual's report concluded.
This suggests that in schools with big fluctuations from expected results, both teachers and the exam board moderators had made similar judgements, which were then at odds with Ofqual's later changes to grade boundaries.
The report says that moderation is applied at the level of individual exam units - but the need for a change emerged later, at the level of the full qualification.
An AQA spokeswoman has also pointed to the "tolerance" allowed in marking - and that even if teachers pushed their marking to the upper limit of this range, moderators would not be expected to require a change.
If teachers across the system pushed their marks to this permissible upper limit, it would see an increase in marks which would not be detected by the moderation process.
Ms Frederick has written to Ofqual chief Glenys Stacey asking for the evidence that underpinned the need for the grade boundary change.
"Do you have evidence of over-marking by teachers? Can we see it? Which schools and which students are you talking about in the report?," writes Ms Frederick.
She has also thrown down the gauntlet to the regulator - saying it is "poorly led and unwilling to accept responsibility".
Brian Lightman, leader of the Association of School and College Leaders, says: "We have heard from many schools that they were told their controlled assessment marking was exemplary, only to find later that it was downgraded.
"If there were issues with teacher over-marking, Ofqual and the exam boards should have dealt with it through improving the moderation process, rather than by changing grade boundaries at the 11th hour. ASCL is strongly encouraging schools to publish their moderation reports, so that the public can see the information that schools were basing their predictions on."
There is also a legal challenge being mounted over the GCSE results, from an alliance of schools and local authorities.
In Wales, exam papers were regraded, but the dispute has continued in England.
An Ofqual spokeswoman said: "Our report recognises the pressures that schools and teachers are under. In producing it we talked - confidentially - to people in over 100 schools, and analysed a great deal of data. Nowhere does the report say, and nor would we want to suggest, that all schools were over-marking.
"Nor have we said that teachers were cheating, as some media reports claimed. But the over-marking was significant enough to make awarding difficult, and to contribute to the unexpected results we saw."
In response to the publication by head teachers of the moderation reports, a spokeswoman for the AQA exam board said: "Ofqual found that while individual schools marked their controlled assessment work accurately according to the marking criteria, the national picture showed that some marking had been optimistic.
"We are acutely aware that the results this summer had a big impact on some schools and have left many students and teachers feeling very let down. We know that we need to ensure that our moderation processes and communications with schools are as effective and transparent as they can be."