Academics call for greater scrutiny of university donations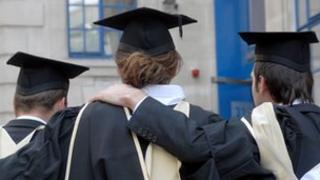 University lecturers are calling for greater scrutiny of donations, saying they fear universities could be helping to legitimise regimes with dubious human rights records.
Members of the University and College Union (UCU) also complain they have been pressured not to speak out against donations of which they disapprove.
University leaders deny this and say institutions carefully weigh up the ethical implications of donations.
Decisions are complicated, they say.
UCU leader Sally Hunt told BBC Radio 4's Today programme some universities were cutting the opportunities for lecturers to be involved in such decisions.
"Many universities are reducing staff voice and the damaging effect this has is that it makes it more difficult for individual academics who have concerns about particular research funding, particular studies, research work, to have an independent voice," she said.
"Staff on many governing bodies are being increasingly pressurised not to stand up."
But Nicola Dandridge, the chief executive of Universities UK, said it was important universities took account of the ethical implications of donations - and that was what they were doing.
"They are acutely aware and conscious of the need to make sure that donations fit with their institutional mission," she said.
"There are some very transparent, carefully drawn-up ethics codes or gift-acceptance codes that are monitored by committees constituted not just by staff but by students, governance and alumni and they consider the ethical implications of gifts.
"It is taken very seriously."
Difficult decisions
Last year, the head of the London School of Economics, Sir Howard Davies, resigned from his post over the acceptance of donations from the government of the then Libyan leader Colonel Gaddafi.
A Today programme report earlier this week said several other universities had faced questions over overseas donations but the money was difficult to track.
Ms Dandridge said many donations were turned down - but decisions were often not clear-cut.
"Supposing the donation enables engagement that supports civil society in that country, that it empowers the people, that it is providing training to neo-natal nurses?" she said.
"In that situation, universities would look very carefully to see if it is appropriate and in line with the university's mission to accept the donation."
But Ms Hunt said: "Accepting money from regimes where there is no academic freedom and it's illegal for academics to organise independently legitimises the regime, it does not liberalise it."