'Arc of underachievement' blights lives of children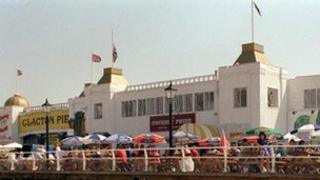 An "arc of underachievement" blights the life chances of thousands of children in some northern and coastal towns in England, says Labour.
The shadow education secretary, Stephen Twigg, says the poorest pupils, particularly white working class children, are being held back.
Mr Twigg urged a series of "regional challenges" which had "transformed" schools in London and Manchester.
Ministers said this was why they were turning poor schools into academies.
Mr Twigg told an invited audience at the House of Commons: "This arc of underachievement runs through many of our seaside towns and coastal cities.
"In places such as Clacton, Torbay and Morecambe, there are too many schools which are not allowing pupils to make the most of their potential.
"While overall results improved between 2006 and 2010 coastal areas fared less well.
"If you take Cornwall, the probability that a poor child will have GCSE results in the bottom quarter nationally increased by 8% between 2006 and 2010. Whereas in Southwark, the probability decreased by 7%. In north east Lincolnshire, the probability increased by 7%, whereas in Darlington it fell by 10%.
"There is also an arc of underachievement that includes a number of northern towns and cities in England, including some schools in places such as Hull, Blackpool and Knowsley.
'Beacons of excellence'
"In these areas, fewer than half of all pupils get 5 good GCSE grades A* to C, including English and Maths, and they do not make the progress you would expect of pupils.
"However, there are also some beacons of excellence such as Manchester and Bury, and we need to learn from their success."
Mr Twigg said many of the worst affected areas had suffered long term decline with the collapse of manufacturing and mining and a decline in tourism.
Delivering the Caroline Benn Memorial Lecture, he said: "We must never accept the attitude which says 'you don't know what we are working with - you can't turn coal into diamond.' If that was the case, why is that schools in places like Hackney and Jarrow achieve impressive results?"
Mr Twigg said that white working class pupils on free school meals were the worst performers, with fewer than 30% achieving five good GCSEs, including English and maths.
Mr Twigg called for regional versions of the City Challenges that ran in London, Manchester and the Black Country from 2008 to 2011. In the capital, a similar programme, the London Challenge began in 2003.
These schemes encouraged collaboration, providing external experts to work alongside existing head teachers in struggling schools, bespoke support programmes and mentoring by head teachers from stronger schools.
Mr Twigg added that many small towns, particularly along the coast, struggled to attract teachers.
He said Labour would work with Teach First, which places top graduates as teachers in challenging areas, to double its graduate trainees to 2,000. He also said Labour would investigate refunding the tuition fees of teachers who pledge to work in northern or coastal schools for at least two years.
Mr Gove's spokesman said: "Stephen Twigg is right to highlight the problem of failing schools. That's why we are turning around the worst performing schools by turning them into academies supported by sponsors with a track record of education excellence.
"A policy started by Labour and continued by us. It's a shame that Stephen Twigg no longer believes in raising standards in this way."