Olympics has not boosted school sport, survey suggests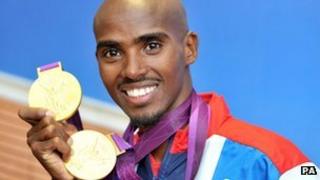 Schools appear to be failing to capitalise on the inspirational legacy of the London Olympics, says a survey.
It suggests the Games inspired more than half of children to take up a new sport, but 80% of parents say the amount of PE and games in UK schools has not increased.
The survey of 1,006 parents by Chance to Shine cricket charity marks 100 days since the end of London 2012.
The government said it was investing £1bn over the next five years.
One of the key parts of the London Olympic bid was inspiring the athletes of the future. The Chance to Shine survey found 54% of pupils had been inspired to take up a new sport as a result of the Olympics.
However, eight out of parents said their children were playing the same amount of sport or less during school hours following the Games and its results suggested many pupils do less than the recommended two hours of sport a week.
'Aspiration'
It also found that 54% of the parents five to 16-year-olds polled said their children played less than two hours of games or PE in school a week.
In Sheffield, the home of gold medal-winning heptathlete Jessica Ennis, 60% of parents say their children do less than the stipulated two hours a week.
Rules requiring schools to report on whether they had met that target were scrapped by Education Secretary Michael Gove in 2010.
The Department for Education said at the time it was an unenforceable aspiration.
However, Mr Gove told schools at the time he expected them to maintain their current levels of PE and sport.
When parents in the survey were asked what the biggest challenges facing schools trying to increase the amount of sport their pupils play, 42% of parents blamed time pressures of the curriculum.
A third of parents blamed a lack of facilities and 29% blamed a lack of funding for school sports.
'Inspired'
Wasim Khan, chief executive of Chance to Shine, which runs cricketing schemes in 6,500 schools in the UK, said: "The fact that parents are saying that their children are doing less than two hours of school sport a week is a concern.
"We want young people to do as much physical activity as possible in and out of school - whether it's cricket, athletics or another sport - to help them lead active, healthy lives.
"Parents are saying that many of their children were inspired by the Olympic Games to play more or to try a new sport.
"We owe it to those children to ensure we have the right infrastructure to make it a reality."
Olympic legacy?
A message on the youth legacy section of the London 2012 website says: "Since it won the bid to host the Games, London 2012 has worked closely with partners and stakeholders on activation programmes to promote sports participation in the run-up to, during and after the Games.
"For example, 14,000 schools and more than five million young people took part in the 2012 National School Sports Week sponsored by Lloyds TSB."
General secretary of the National Union of Teachers, Christine Blower, said the Olympic Legacy was alive and well and being nurtured by our PE teachers.
"Many NUT members are involved in sports clubs of all kinds both during and outside of school.
"Think how much more, though, could be done if the government hadn't all but scrapped the Schools Sports Partnership and presided over the sell-off of playing fields.
"Teachers want to see an Olympic legacy. The question is does the government?"
The panel of parents were surveyed online by Opinion Matters in early November.
A government spokesperson said: "We want more young people to take part in competitive sport - not only so they lead healthy and active lifestyles but also so they develop new skills and learn how to work as a team.
"This is why we are putting competitive sport at the heart of the new primary school curriculum and extending the School Games competition. We are also investing £1bn over the next five years in youth sport; improving links between schools and clubs and upgrading hundreds of facilities up and down the country.
"However, encouraging more young people to take part in sport cannot be driven just by top down Whitehall policies, as we have seen previously; it must be led by parents and communities creating a culture where competitive sport can thrive."