Pupils 'entered for GCSE English twice'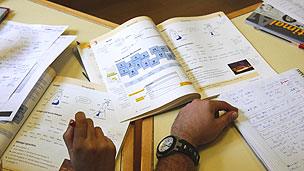 Hundreds of state schools are entering pupils for two English GCSE-level qualifications at the same time in a bid to boost their grades, a report says.
The Times Educational Supplement (TES) says pupils are being entered for both GCSE and international GCSE (IGCSE) English exams, with only the better grade counting towards league tables.
The IGCSE has only counted in state school league tables since 2010.
Ministers branded the tactic "cynical".
The government is drawing up reforms to league tables in a bid to reduce the focus on GCSE floor targets.
The double-entry strategy is being promoted by a group called the PiXL Club, which aims to dramatically improve GCSE results among its members.
About 400 secondary schools are part of the club, each paying a yearly fee to receive advice and tips on how to become more successful.
According to former head teacher Sir John Rowling, the chair of PiXL, the strategy has yielded good results.
He told the TES about 80% of member schools were entering some of their students for both the IGCSE and the regular GCSE.
Sir John said the main aim was to ensure students achieved a good grade, but he added league tables were also a concern.
"Most heads thought the IGCSE was just for independent schools and that it didn't count towards league tables, but we have studied it very carefully and we've found it can be very appropriate for some state school students," he said.
The idea had taken on greater relevance in the light of this summer's GCSE marking fiasco, which had led to thousands of pupils getting lower than expected grades, he added.
"[Entering pupils for the IGCSE] is not instead of another exam, it is alongside - we mix and match," Sir John added.
Ministers announced in June 2010 that the IGCSE would count towards league tables, after it had grown in popularity in independent schools.
It is considered a more traditional qualification than GCSE, with an emphasis on end-of-course exams. Education Secretary Michael Gove has indicated he would like to see the forthcoming English Baccalaureate Certificates based on IGCSEs.
The PiXL Club provides schools with a range of strategies to improve results, from highly detailed pupil data tracking to in-depth studies of previous years' exam papers.
Oasis Academy Shirley Park in Croydon has seen the proportion of its students achieving five good GCSEs including English and maths rise from 26% to 66% in just three years since joining the PiXL Club.
Dan Morrow, head of the secondary phase at Shirley Park, said his school had entered students for both IGCSE and GCSE English for the first time this year to stretch the most able.
Pupils did both exams to help "ensure they didn't miss out on a qualification", he said.
Mr Morrow told the TES: "It's about setting pupils up for life with the right qualifications."
But a Department for Education spokesman criticised the practice of double entering pupils for exams, saying it was not in the best interest of pupils.
"Schools must only enter students for the qualifications that are right for them, not for the cynical reasons this suggests," he said.
He added: ."It is essential that the secondary school accountability system minimises perverse incentives and acts in the interests of all pupils. We have already announced our intention to launch a consultation into this system and will do shortly."
Russell Hobby, general secretary of the National Association of Head Teachers, said it was hard to see the educational benefits of entering students twice.
He added: "It's just another example of the perverse incentives that are a result of league tables."
Related Internet Links
The BBC is not responsible for the content of external sites.