Lawrence of Arabia's lost hero scientist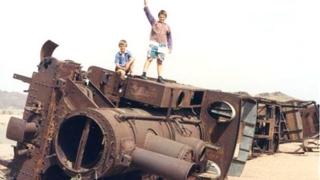 The overlooked scientist whose expertise helped Lawrence of Arabia's desert campaign during World War I is going to be remembered in a bid to rewrite the Lawrence movie legend.
The chemist Herbert Garland used his scientific knowledge to teach Thomas Lawrence how to blow up railway lines.
The Royal Society of Chemistry wants the behind-the-line heroism of the scientist to be remembered.
The Lawrence of Arabia movie is marking its 50th anniversary next week.
The military and political achievements of Thomas Lawrence - remembered as TE Lawrence or Lawrence of Arabia - were depicted in David Lean's iconic movie, first screened on 10 December 1962.
Moving trains
But the Royal Society of Chemistry says there was a key element missing from the plot - the role of scientist Herbert Garland, who helped to develop techniques for blowing up rail lines to disrupt enemy troop movements and supplies.
The Royal Society of Chemistry is offering a £300 prize for the best script for this "missing" sequence.
This is the latest stage in the society's campaign to gain more recognition for Garland, whom they feel has been overshadowed by the glamour and mystery surrounding Lawrence.
Both Lawrence and Garland were part of the unorthodox collection of soldiers who took part in the Arabian campaign against the Ottoman Empire, which was fighting against the Allied forces in World War I.
Lawrence had been an archaeologist and scholar - and Garland had been a chemist with an expertise in ancient Egyptian metallurgy.
While in Egypt before the outbreak of war, he had received a grant from the Chemical Society - predecessor of the Royal Society of Chemistry - to research ancient Egyptian alloys.
These skills were put to a different use in wartime, inventing a new type of grenade, known as the Garland Grenade.
He also pioneered ways of attacking trains - with claims that in 1917 he was the first to blow up a moving train, using a contact device which he had invented himself.
Garland taught Lawrence how to use explosives and his ability to speak Arabic helped him to teach demolition skills to Bedouin tribesmen fighting alongside.
According to the Royal Society of Chemistry, Lawrence wrote to a diplomat in Cairo: "Garland is much more use than I could be. For one thing he is senior to me and he is an expert on explosives and machinery. He digs their trenches, teaches them musketry, machine gun work, signalling, gets on with them exceedingly well and always makes the best of things and they all like him too."
The 1935 death of TE Lawrence in a motorbike crash - the subject of another play - was a major event, marked by a service at St Paul's Cathedral in London.
But Garland died with little recognition three years after the war ended - the gruelling conditions and harsh climate said to have ruined his health.
While Lawrence's posthumous fame grew, Garland's achievements were largely forgotten. His grave was only rediscovered in 2004 by descendants living in the United States.
Scripts for the Lawrence of Arabia competition should be emailed to the Royal Society of Chemistry at StevenV@rsc.org