Military in schools projects get £2m boost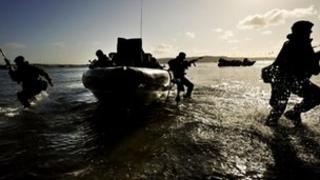 Projects which put former servicemen and women in England's schools have been given a £2m government boost.
Underprivileged children and those who have been expelled from school are among those targeted by the schemes, in Kent, Cheshire, Newcastle and Merseyside.
Education Secretary Michael Gove says every child "can benefit from the values of a military ethos".
There is also an existing plan to get ex-military to train as teachers.
The government says the schemes getting this latest funding involve trainers working closely with teachers, schools and parents on activities aimed at helping youngsters be more positive about school.
It says this should boost achievement.
Activities will include one-to-one mentoring, military-style obstacle courses "to motivate hard-to-reach pupils" and team-building exercises "to encourage discipline, leadership, teamwork and good behaviour".
In some cases, the focus will be on helping excluded pupils or those who are not in education, employment or training - preparing them for courses or work.
Coping strategies
Mr Gove said: "Every child can benefit from the values of a military ethos. Self-discipline and teamwork are at the heart of what makes our armed forces the best in the world - and are exactly what all young people need to succeed.
"Exclusion from school should never mean exclusion from education. These projects are helping pupils in alternative provision reach their full potential and are helping to close the attainment gap."
The four schemes sharing the £2m funding are Commando Joes' in Cheshire, Challenger Troop in Tunbridge Wells, Kent, SkillForce in Newcastle and Knowsley Skills Academy in Prescot, Merseyside, which the government says are already helping pupils from some of the UK's most deprived areas.
The director of Commando Joes', Mike Hamilton, said: "We have been working with disadvantaged, vulnerable pupils and young people at risk of exclusion for several years now and our aim has always been to provide them with the best opportunities and strategies to cope and engage in everyday situations - situations that they often find difficult and challenging.
"We hope to give many more pupils the opportunity to take advantage of the benefits, thus helping them to achieve an excellent education."
Troops to teachers
Labour also supports the idea of involving the military in schools.
It is looking at how it could establish a network of what it is calling "service schools" in existing or new schools around England, particularly in socially-deprived communities.
The government's "Troops to Teachers programme" aims to get soldiers leaving the forces to retrain as teachers.
The Times Educational Supplement (TES) reports that since last year, 132 ex-servicemen and women have been accepted on teacher training courses.
It says 6,000 people have inquired about moving to the classroom but that many have been prevented from doing so because they do not have a degree.
The TES adds that the government plans to open up a new route for non-graduates whereby they can earn a degree while training and another where they can qualify to teach in colleges.