Watchdog warns on shift to single exam board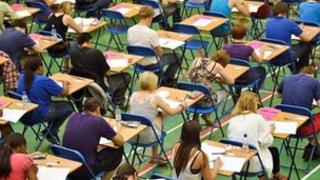 England's exam watchdog has raised concerns about the timing of plans for only one exam board for each subject as the proposed English Baccalaureate Certificates (EBCs) are introduced.
Ofqual chief Glenys Stacey has written to Education Secretary Michael Gove warning of "significant risks".
The regulator says pressing ahead could "delay qualifications reform".
A Department for Education spokeswoman said: "The exams system is in desperate need of a thorough overhaul."
The proposed timetable would see changes introduced from 2015 - with a shake-up that includes the introduction of the first wave of EBCs, replacing GCSEs in English, maths and sciences.
'Unintended consequences'
These new qualifications would then be rolled out for other subjects, including history, geography and languages.
But at the same time there would be other changes - including the introduction of a single exam board for each subject.
At present there is competition between exam boards for each subject - and there have been concerns that exam boards may be trying to get more business by offering easier versions and lowering standards.
Introducing a single exam board was intended to create greater clarity about what was being studied and to what standard.
Ofqual's chief regulator has now highlighted her worries that too much structural change is being proposed at the same time.
"There are significant risks to the safe and continued delivery of all qualifications in the model proposed," says her letter to Mr Gove.
"It will distract Ofqual and exam boards from the central, most important matters of first-class qualification and assessment design, standards and delivery.
"It will in our view elongate the timeframe for new qualifications and lead to unintended consequences, for example, unduly costly qualifications and too limited a choice of providers in future," said the letter from Ms Stacey.
The letter, Ofqual's contribution to the consultation on the English Baccalaureate, also calls for greater clarity over what pupils will be expected to study in these revised qualifications.
"If you clarify curriculum and educational outcomes in sufficient detail and reconsider combining qualifications and market reform, then in our view you will increase substantially the chances of your plans being successful and being implemented in as timely a way as possible," Ms Stacey writes.
Last week, the exam regulator released a letter from Ms Stacey to Mr Gove, which showed her concerns about how the new EBCs could be used reliably as an accountability measure for schools.
The letter warned that the "aims for EBCs may exceed what is realistically achievable through a single assessment".