University applications 'not recovering' at deadline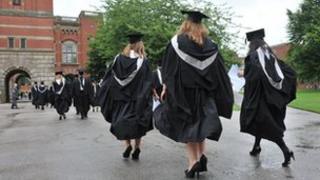 There is no sign of significant recovery in university applications, says a university leader, as Tuesday night's admissions deadline approaches.
Hundreds of thousands of would-be students will have submitted applications for autumn 2013.
But Pam Tatlow, chief executive of the Million+ group, says there is "no evidence of any great bounce back" from last year's falling numbers.
She called for a government-backed campaign to promote higher education.
This year will also see further changes to the admissions process - with more choice for students achieving ABB grades at A-level.
Midnight deadline
Tuesday is the Ucas admissions service deadline for most university courses - although in practice students can continue to apply later.
Last year - the first intake with £9,000 maximum tuition fees - saw a 6.6% drop in applications, with a final figure of 653,600 applying.
There has been close scrutiny to see whether this was a temporary decline or a longer-term trend. When fees last had a big increase, up to £3,000 per year, there was a one-year decline before numbers began to climb again.
So far this year's official figures - up to mid-December - have shown a further fall of 6.3% compared with the previous year.
There have been unconfirmed suggestions that applications have improved substantially since those falling figures last month, but not sufficient to rise much above last year.
Although some individual universities are reporting higher applications, the overall picture is being described as similar to last year.
Universities will face more volatility in the allocation of places for autumn 2013, as part of the push for a more market-driven approach.
Last year there was no limit on places for applicants who achieved AAB grades - and while it meant expansion in some universities, it meant unfilled places in others.
This year there will be even wider flexibility, with A-level ABB grades or better becoming exempt from these student number controls.
It means that universities will be funded for an unlimited number of students with these grades, which is meant to make it easier for talented students to get a place on their first choice course.
Although this threshold is described as ABB grades at A-level, it also applies to dozens of other combinations of results, such as A*A*E, AAC and A*A* and a C grade at AS-level.
There are also equivalents for Scottish Highers, the International Baccalaureate, BTECs and Cambridge pre-Us.
Under-recruitment
Universities' uncertainty over applications and places has been compounded by concerns over demand from overseas students.
There have been warnings that the high-profile restrictions on student visas are having an adverse impact on applications.
Figures published recently showed a 25% drop in the numbers of Indian students entering UK universities last year.
Alex Bols, executive director of the 1994 Group of research intensive universities, said that earlier figures showing a fall in applications from UK students could be because students were applying later in the admissions cycle.
"However, the 15 January deadline is a major milestone and we will be looking for an upturn in the applications since the December figures were released. If there is a significant drop then we are concerned that what might have been considered a blip last year, might be becoming a trend.
"If there is a drop in the number of applicants this year it is imperative that we find out why. One reason might be that students don't understand the new loans repayment system and are being put off by the large 'debt'."
The Russell Group of leading universities has welcomed the shift to allowing more choice for students with ABB grades. But it says that is still too early to draw conclusions about this year's final application figures.
The official update on applications up to Tuesday's deadline will be published at the end of January.
Responding to last year's under-recruitment and in a bid to give universities more confidence in offering places, the Hefce funding council is allowing universities a wider margin for over-recruiting, before they face financial penalties.
The funding council has already told universities they will not use this year's shortfalls in general to limit places for next year. However it suggests that some universities will face such a cut.
"We may have discussions with a very small number of institutions, whose shortfalls appear particularly extreme, about setting an appropriate limit for 2013-14," says a letter from the funding council.
Universities Minister David Willetts said: "We are providing more flexibility on recruitment to give students more choice and to allow the most popular institutions to grow.
"We have now laid the foundations for a better funded and more responsive higher education sector, backing aspiration and equipping the UK in the global race."
Sally Hunt, leader of the UCU lecturers' union, said: "Fewer students at universities will represent a failure of the government's higher education policies."