Apprenticeships 'should last three years' - report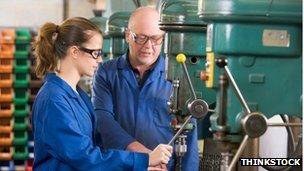 Apprenticeship programmes should last three years and be as demanding as A-levels, a report argues.
Programmes which are shorter or at a lower level should be called something else, say authors from the Policy Exchange think tank.
The report calls for a high quality technical and vocational education to be available to pupils as young as 14.
Skills Minister Matthew Hancock said: "We strongly agree that vocational education needs transforming."
The report, Technical Matters, says that the government's increasing focus on academic skills, while welcome, "may not work to the advantage of all students in the education system".
"There are some for whom an alternative route with a greater emphasis on practical and applied learning may better meet their needs."
It says that too many students who would be better suited to technical or vocational training are being encouraged to take A-levels, with recent research suggesting almost a third of sixth-formers drop out.
The authors draw on the 2011 Wolf review which called for a radical shake-up of vocational education, saying that too many vocational courses had little or no labour market value and would not lead to university or a job.
They also cite entrepreneur Doug Richard who has called for apprenticeships that genuinely train people in a new role.
The report calls for better and more independent educational and careers advice for pupils as young as 14, new funding arrangements to dissuade sixth forms from "retaining students who would benefit from technical or vocational education" and a new TechBacc or VocBacc as an alternative to the Ebacc for technically minded GCSE students.
It also calls for employers to be involved formally in technical and vocational education to ensure that what is taught is relevant and useful in the workplace. It also says high quality apprenticeships should be available to pupils from the age of 14.
It urges the government "to send clear signals to employers and potential trainees about the value and nature of apprenticeship".
Lead author Dr Owen Corrigan said: "An alternative technical route through the education system could benefit the many students whose needs are not currently being met, as well as employers who complain about skills shortages, especially in science and technology areas."
Dr Corrigan added that vocational and technical studies should not be seen as inferior, but that meant ensuring the qualifications on offer should be of the highest quality.
Mr Hancock said the government was "reforming apprenticeships, introducing traineeships and overhauling the system to recognise only high quality vocational courses that lead directly to a skilled trade or profession".
He added that employers were helping shape the curriculum in the government's new studio schools and university technical colleges.
He said: "We're also introducing a technical baccalaureate that will recognise the best vocational qualifications and we're allowing the best colleges to take on 14-16-year-olds to study courses taught by industry specialists."
Stephen Twigg MP, Labour's shadow education secretary, said the report echoed concerns that vocational education has no place in the government's plans and that without change Britain risked losing the global race on skills: "We need to be as strong as Germany and Switzerland on vocational education, and as competitive as Singapore and Japan on Maths.
"Labour would introduce a technical baccalaureate at 18 and strengthen the quality of courses by allowing businesses to accredit them. We believe all students should study English and maths to age 18 and get a quality work experience placement, an entitlement the government has ended."
Related Internet Links
The BBC is not responsible for the content of external sites.