Syrian students face fees crisis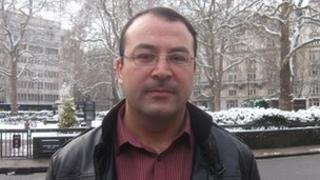 While most university students are preparing for their final examinations, many Syrian students in the UK are preoccupied with the dangers facing their families in Syria - and what could face them if they lose the right to study in the UK.
Records suggest there are more than 600 Syrian studying in the UK. Several have been unable to pay their tuition fees since the conflict in Syria began.
Yassin, a PhD student, said his scholarship from the Syrian government had been cut off after he had made comments on the social-media website Facebook criticising the regime.
He told the BBC that while visiting relatives in Syria, he had been tortured and imprisoned for more than 40 days, his family had been threatened and he had been called "a disloyal dog" because his scholarship was funded by the government.
The BBC has been unable to independently verify these claims.
After Yassin escaped the Syrian regime, he said that one of the first things he saw was an email from his university saying his student visa had been terminated because of his absence.
"I was shocked to see the email. It was a shame to see this after six to seven weeks in prison being tortured," he said.
He had been able to have his student visa reinstated after explaining his situation, and had managed to return to the UK for his studies after bribing a Syrian official who had removed his name from a travel blacklist, he said.
However, he has not yet resolved how he will settle his tuition fees.
Visa fears
Several students associated with the opposition say they have had their scholarship payments halted, while others cannot receive funds from their families, as many bank transactions from Syria are blocked by EU sanctions.
Husam Helmi, a PhD student at Brunel University, said he could not access his scholarship from Aleppo University.
"My family needs to go to Aleppo to be able to collect this money and transfer it to me. But it's impossible to go to Aleppo at this stage, as people are being killed on the roads and there are checkpoints everywhere."
Many students now face an uncertain future - some have had their student status suspended, while others have been told they cannot graduate until their fees are settled. With no access to funding, many are struggling with day-to-day living costs.
Students say the uncertainty is particularly difficult at a time when their families are still in Syria.
Khaled, a PhD student who has two children living with him in the UK, said his student status had been on hold since June.
"I've been doing car-boot sales and trading jobs to try and support my family. It's difficult because no-one employs you if you don't have a long-term visa."
"It's very stressful - once the uprising started, even when I tried to study, you're always thinking about the news, because every minute you're worried that someone close to you may die," he said, adding his brother had recently been recruited into the army.
"I applied for a loan from my university to help with living costs, but this was rejected. The university asked me to provide an up-to-date sponsor letter, which I couldn't get hold of because of the situation in Syria."
Many students are worried their inability to pay their fees could lead to their student visas being revoked.
'Double standards'
Under normal circumstances, an international student who loses their student status has permission to stay in the UK for up to 60 days. However, the UK Borders Agency has offered a temporary concession to Syrian students in the UK, which is valid until 15 March.
The campaign group Avaaz has set up a petition urging the UK government to guarantee Syrian students can complete their courses in the UK.
Luis Morago, campaign director of Avaaz, said: "This smacks of double-standards. The UK beats the drum for action on Syria but has so far done nothing to help hundreds of stranded Syrian students in Britain."
In a joint letter, members of the CARA (Council for Assisting Refugee Academics) UK Universities Network said: "We are doing all we can to help in this very difficult situation, including, where necessary, the deferral of fees and provision of support through hardship funds."
"CARA, which has been providing life-changing help to academics in danger for 80 years, has also launched an appeal to raise funds to assist."
In a statement, the Department for Business, Innovation and Skills said it recommended "universities and scholarship-awarding bodies use their own discretion over fees".
"We would urge students to speak to their university welfare departments and student union welfare officers," it said.
Students whose funds are subject to the EU asset freeze could apply to the UK Treasury for a licence enabling their transfer, it added.
Some names have been changed.