School places: Parents' views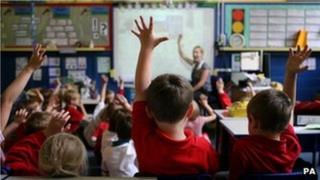 There is still a "real strain" on school places in England, according to a new report.
The report by the National Audit Office(NAO) said a quarter of a million extra school places will be needed in England by 2014.
Many parents are struggling to find places in schools for their children due to rising demand.
BBC News website readers have been sharing their experiences.
Maxine Gee, London
The school two of my sons go to was asked last year to take a "bulge year". This meant having three reception classes in the 2012-2013 intake, one of which my son would be put into.
This was a very last-minute decision from our council, only announced in July 2012 - just two weeks before the end of summer term.
At the time there were reassurances that this would be a one-off. Yet the council has now requested that next year's intake is also three classes for reception.
There was also a feasibility study to make this permanent each year. However, this was rejected due to not having the funding to do the full conversion work.
With one more son still to go to school, and knowing that there are these shortages, we do have real fears for the future - not just with primary but with plans for secondary.
Andrea Burrows, Leeds
I have one son at primary school and another who is due to start in September.
I've been thinking about this issue since attending a consultation meeting at the school last year to discuss the possible expansion of the number of places available.
There were various facts and figures in the consultation document.
The scariest and most telling was that, taking the children who will be starting this September across the whole of our city as an example, there are around 3,500 more of them than the 11-year-olds who will be starting secondary school at the same time.
So, by seven years' time, the local council will need to have created the equivalent of at least two or three new super-sized secondary schools to meet the demand - and more actually, because you can't stand still and the population will keep growing.
I think there are a lot of heads stuck in the sand on this issue. How on earth can local councils meet this challenge with the current economic and political situation?
John, Dorset
We moved from London to Dorset last September with our two girls, now aged seven and nine, and applied to the local council for school places beforehand.
The day before term started, we were told they had a place at a school five miles away and would be given a taxi to take them there and back. Of course, this was very convenient for us, but it was at taxpayers' expense and I felt completely disassociated with the school.
I queried the lack of local places with the council and discovered that they had assumed I wanted my girls to go to the same school. This was not the case. I had never even been asked about this.
I appealed and one of my daughters was given a place at a school near to our house, but the Year 4 class had to be bumped up to 32 students to accommodate her.
My other daughter still gets a taxi to the other school and I get the impression she missed out on a place because of the council's dysfunctional system.
Andrea Smith, Hounslow
We moved from Sudbury to Hounslow last July. My son, Bilal, was due to go into Year 2 and we applied to the council for a school place.
We were told that there were 63 other children in the borough waiting for Year 2 places.
It would have been around an eight-mile drive to get my son to his old school, so we really wanted a school in the Hounslow area.
Throughout last summer, we kept ringing the council to get updates. They said they couldn't tell us anything yet. They didn't seem to understand how concerned I was to get my son into a school.
I was worried about getting a penalty if my son was out of school for a while, but they said this wouldn't be a problem.
I was getting quite concerned, especially once the term had started and we still hadn't heard anything.
Eventually, two weeks after the schools went back, we heard from a school in the area and they gave him a place.
Simon Adelman, Cambridge
My wife and I have a two-year-old girl and we saw this problem coming a year ago in our town of Histon, near Cambridge.
School places there are already reaching saturation and that's before the recession boom of babies born in 2010/2011 reach school age.
With no assurances from the school or local council on how they will provide extra places, we have just completed a house move 15 miles further from Cambridge to a sleepy village with an excellent school with capacity for our daughter.
As with any house move, it has cost us tens of thousands of pounds. However, we see that as the price of ensuring a good school place for our daughter.