Teachers' unions gather in angry mood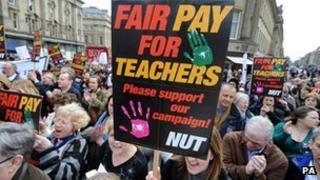 The two biggest teachers' unions are gathering for their annual conferences, where they will challenge the government over pay, Ofsted inspections and England's academy schools.
The NUT and the NASUWT have already announced joint strike plans over pay, pensions and workload.
There is also likely to be a no confidence vote in Education Secretary Michael Gove.
The Department for Education has said it is "disappointed" by the strike.
Mr Gove has written to the union leaders saying he would meet them for talks but that there would be no re-negotiation of planned changes to teachers' pay and pensions.
He said linking pay to performance was "fairer" and would help schools to reward and retain the best staff.
The Easter weekend will see delegates from the National Union of Teachers (NUT) meeting in Liverpool, while the National Association of Schoolmasters Union of Women Teachers (NASUWT) is holding its annual conference in Bournemouth.
The two unions represent more than 600,000 staff - with the NUT having members in England and Wales and the NASUWT having members across the UK.
Local strikes
These conferences have often seen votes for industrial action, but this year the two teachers' unions have pre-empted this by already announcing details of a campaign of strikes and industrial action.
A series of local strikes will begin in the summer term to be followed by a one-day national strike in the autumn.
The conferences are likely to highlight issues which unions argue have undermined teachers' morale and threaten the quality of state education.
England's education watchdog Ofsted and its chief inspector Sir Michael Wilshaw will be the focus of much criticism.
Teachers have accused the inspection system of being misused as an arm of the government's policy of expanding academies.
They have also been angered by what they claim is the negative portrayal of teachers by Ofsted and the government.
The education secretary and his plans for performance pay for teachers will be the target of union opposition.
The current annual rises for teachers, intended to reflect their growing experience, are to be replaced by a system linked to performance.
Chris Keates, general secretary of the NASUWT, said there had been a "relentless attack" on teachers and that government policies were damaging children's education.
"The key issue is the impact of government policy on children and young people," she said.
"Teachers are concerned that children's rights are being stepped over and there is a real concern about their pay and conditions. Children need teachers who are rewarded as highly skilled professionals."
Heckling and walk-outs
There will once again be no ministers speaking to the NUT conference.
It is now a decade since the then-Education Secretary Charles Clarke decided not to address NUT delegates, after previous ministers had faced heckling and walk-outs.
Ministers continued to speak at NASUWT conferences, but there will not be any attending this year.
Teachers will also be debating changes to the national curriculum and the qualifications system.
The government says its planned changes to pay will improve standards, by rewarding the best teachers and that its academy programme gives schools freedom to innovate and deliver the best education for children.
A spokesman from the Department for Education said: "Far from undermining teaching we are taking steps to make sure that it is properly recognised.
"We are reforming teacher training to attract the best graduates and professionals, investing £4m in professional development for existing teachers and reforming pay so schools can attract and retain the best teachers who have the greatest impact on their pupils' achievements."
He added that the government's academy programme was "turning around hundreds of under-performing schools".
Ofsted has rejected the criticism it is set to receive this weekend.
A spokeswoman said: "Ofsted is there to champion the right of all children and learners to a good education. That's what parents want and that's what young people deserve.
"Sir Michael has said from the outset any provision that is less than good is not acceptable. That's a tough message, especially for those schools and colleges that have been coasting. It's inevitable that when you challenge the system to do better, you will get some pushback."