'Cheese is from plants' - study reveals child confusion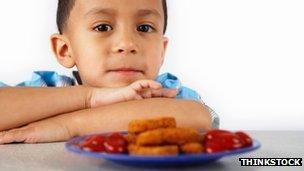 Almost a third of UK primary pupils think cheese is made from plants and a quarter think fish fingers come from chicken or pigs, suggests a survey.
Nearly one in 10 secondary pupils thinks tomatoes grow under ground, according to the poll for the British Nutrition Foundation (BNF).
Some 27,500 five-to-16-year-olds were questioned last month.
The charity says the figures prove the need for better teaching about cooking and healthy eating.
The survey also revealed confusion about the source of staples such as pasta and bread among younger pupils, with about a third of five-to-eight-year-olds believing that they are made from meat.
About 19% of this age group did not realise that potatoes grew under ground, with 10% thinking they grew on bushes or trees.
The survey, produced to coincide with the BNF's healthy-eating week, also revealed that more than three-quarters (77%) of primary school children and nearly nine in 10 (88%) secondary pupils knew that people should eat at least five portions of fruit and vegetables each day.
However, most fail to do this themselves - with 67% of primary pupils and 81% of secondary students saying they eat four or fewer portions a day.
Two in five secondary pupils said they didn't think frozen or canned fruit and vegetables counted towards their five-a-day.
The researchers also reported "that an alarming number of children do not eat breakfast each morning". The numbers skipping breakfast also increase with age, according to the study.
Asked whether they had eaten breakfast that morning, some 8% of primary children said they had not. This increased to nearly a quarter (24%) of 11-to-14-year-olds and almost a third (32%) of 14-to-16-year-olds.
The survey found that only 17% of UK children ate fish twice a week, the recommended amount.
The research also reveals that children would like to cook more, with 85% across all age groups saying they liked cooking - but 9% of primary children and 11% of secondary pupils never cook at home.
About 73% of five-to-eight-year-olds had been on a farm visit, rising to over 80% for older children, according to the survey.
Roy Ballam, education programme manager at BNF called for a national framework and guidance for food and nutrition education across the UK, "especially at a time when levels of childhood obesity are soaring".
Some 3,000 UK schools have signed up for the BNF's Healthy Eating Week programme which Mr Ballam said aims "to start the process of re-engaging children with the origins of food, nutrition and cooking, so that they grow up with a fuller understanding of how food reaches them and what a healthy diet and lifestyle consists of".
A spokesman for England's Department for Education said: "We want to encourage children to develop a love of food, cooking and healthy eating that will stay with them as they grow up."
The spokesman added that its curriculum reforms would make food and nutrition compulsory for eight-to-14-year-olds, while the new design and technology curriculum would allow teachers to explain food production.
"In addition, the Leon restaurant chain founders Henry Dimbleby and John Vincent have been appointed by the Secretary of State to lead an independent review of school food. The review is looking into what needs to be done to ensure that all pupils develop an understanding of food and nutrition."
Related Internet Links
The BBC is not responsible for the content of external sites.