Q&A: GCSE changes in England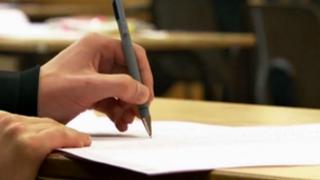 As Education Secretary Michael Gove sets out his plans to reform GCSEs in England's schools with tougher exams and a move away from coursework, the BBC News website answers some key questions.
What are the planned changes in England?
The changes will initially be for nine core GCSE subjects - English language and literature, maths, physics, chemistry, biology, combined science, history and geography. Grades will be numerical (8-1) rather than the current letter grades A*-G.
Modular courses will be dropped and instead full exams will be taken in the summer at the end of two years of study (excluding November resits in English language and maths). Controlled assessments (coursework done under exam conditions) will be scrapped and exams will be based on a more stretching, essay-based system. The pass mark is to be pushed higher.
However, there is no sign of a change in name to I-level for the English exams - as had been suggested. The changes in the nine core subjects come into effect for courses starting in September 2015, with exams sat in the summer 2017. Changes for other subjects, such as languages, will be introduced from autumn 2016.
How will this affect individual subjects?
According to documents from the Department for Education, in English literature, pupils will be asked to study at least one play by Shakespeare, Romantic poetry, a 19th century novel, poetry from the 1850s onwards, and fiction or drama since the First World War.
In English language, 20% rather than the current 12% of marks will be awarded for good spelling, punctuation and grammar and a "greater range of writing skills" will be required. Digital texts are excluded for both English language and literature courses.
The new maths GCSE features advanced algebra, statistics, ratio, probability and geometry. Exams will contain fewer single-step questions and more non-routine problems.
Pupils who opt to take geography will be examined on the range of skills needed for fieldwork and there will be more emphasis on the human and physical geography of the UK.
In history, pupils will have to complete an in-depth study based on one of three periods - Medieval (500-1500), Early Modern (1450-1750) or Modern (1700 to present day). The new GCSE course also contains no controlled assessment - coursework completed in the classroom - with exams based on extended essays and short answers.
New science GCSEs contain practical experiments and extended work on topics such as genetics and ecology in biology, nanoparticles and bioleaching in chemistry, and energy and space in physics.
Why does Michael Gove want to scrap GCSEs in their current form?
Mr Gove wants to tackle grade inflation. He told the Commons that the changes would make exams "more challenging, more ambitious and more rigorous", ensuring GCSEs were universal qualifications with more detailed subject content. His reforms would "reduce variability in the system", he added.
The GCSE pass rate has risen every year since the exams were first sat in 1988 until 2012. Between 2000 and 2009, the percentage of GCSEs awarded an A* to C increased by more than 10 percentage points.
Didn't Mr Gove once announce a return to O-levels?
In June 2012, Mr Gove announced plans to scrap GCSEs and replace them with English Baccalaureate Certificates (EBCs), with each subject set by a single exam board. But this scheme (described by some as a return to O-levels taken until the later 1980s) was abandoned in the face of strong opposition from the Liberal Democrats, the exams regulator Ofqual and MPs on the Education Select Committee.
Mr Gove told the Commons in February 2013 that EBCs had been "a bridge too far." Instead Mr Gove said GCSEs would be retained but reformed instead. This latest announcement details those reforms.
What is happening in the other nations?
Mr Gove's plans relate to England only as education is a devolved matter and is under the control of the devolved administrations in Scotland, Wales, and Northern Ireland.
Pupils in Scotland do not sit GCSEs, but they do sit them in Wales and Northern Ireland. Both the Welsh and Northern Irish education ministers have said they do not intend to move away from the existing GCSE brand.
Questioned about this in the Commons, Mr Gove said the rebranded exams should be available to all state schools, not just those in England.
What will be the consequences of these differences?
The changes mean pupils in all four of the UK nations will be awarded different qualifications at the age of 16, raising questions about how they will be distinguished from each other.
The different qualifications will make life more complicated for university admissions tutors who offer degree places, at least partly, on the basis of candidates' GCSE results. There could also be confusion for those employers who use age-16 qualifications as measure for hiring prospective employees.
What sort of GCSEs do pupils currently sit?
The current system of GCSEs sees pupils complete modular courses made up of coursework, as well as exams. Exams are taken throughout the course, as modules are completed. However, from September 2012, coursework and modules were reduced or reformed. Grades are awarded from A* to G. Schools are judged, for the purposes of league tables, on the proportion of pupils getting at least a grade C in five GCSEs including maths and English.