A-level maths paper confusion 'unacceptable', says MP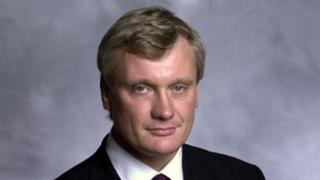 Confusion over an A-level maths paper set by exam board Edexcel is completely unacceptable, says education select committee chairman, Graham Stuart.
Edexcel, owned by Pearson UK, sent out replacement papers after an exam paper was lost in the post, but two schools in the UK and two overseas mistakenly gave candidates the original ones.
Those who sat the new paper said it was too hard and want a re-sit for all.
Mr Stuart has written to Pearson UK to demand answers about last week's exam.
Students who sat the replacement A-level C3 maths exam claim this paper contained content which was not on the syllabus.
Many are concerned the confusion could cost them their university places, as they fear getting worse grades than predicted.
The fact that 60 students in four exam centres sat the original paper, which was allegedly easier, has added to the confusion.
Exam board Edexcel said the replacement paper had been designed to the same standard as the original one.
But if examiners reported that it had been too challenging for candidates, this would be taken in to account in grading.
'Completely unacceptable'
Mr Stuart has written to written to Rod Bristow, the president of Pearson UK, asking what checks were carried out to ensure the replacement exam paper properly reflected both the content and the difficulty of the syllabus.
He also asks how students at two UK and two overseas centres came to sit the original exam paper, rather than its replacement.
The education committee chair also asks what action Pearson will take to ensure pupils who sat the replacement exam paper will not lose out relative to those who sat the original exam paper.
Mr Stuart said: "Confusion surrounding high-stakes exam papers is completely unacceptable. Young people work extremely hard for their qualifications and have a right to expect that they will sit the same exam paper as their peers - and be assessed to the right standard.
"I have written to Pearson to demand an explanation both about how this situation arose and how they intend to put it right. We urgently need to be able to reassure students that they will not lose out because of mistakes which were not their fault.
"I will be keeping up the pressure for answers from Pearson - and, if these are unsatisfactory, for whatever further action is necessary."
A Pearson spokeswoman said: "We will be responding to Graham Stuart's letter to answer his questions.
"Since this paper was sat, we have made very detailed information available to schools and students through our website, and will continue to respond to any concerns."
Constituents' daughter
The issue was raised with Mr Stuart by the Knapton family, who are his constituents in Beverley and Holderness, after their daughter, Jessica, sat the exam paper in question.
Her mother, Jane Knapton, said: "Young people work very hard towards their exams and sacrifice an awful lot.
"Jessica and all the other students have been left stressed and upset by this chaos at a time when they have enough on their plate. Their experience has undermined their whole confidence in the system.
"Edexcel need to be held accountable and I'm glad Graham has responded by taking such prompt action."