From the end of the pier to dreaming spires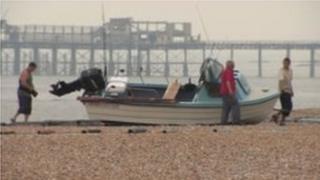 As Ofsted warns some coastal and shire town schools are failing their poorest pupils, Hannah Richardson visits a school in Hastings which is bucking the trend.
"Research scientist", "teacher", "civil engineer", call out a group of bubbly teenagers chatting about what they want to be when they grow up.
One of the Hastings Academy pupils is even planning two careers - as a university lecturer and an author. And another has her eye on a course at Oxford University.
They don't come across as youngsters held back by their backgrounds. The sky's the limit.
But according to Ofsted, they are being taught in a coastal area which tends not to serve its poorest pupils as well as it could.
The academy, sponsored by Brighton University, is rated good by the education inspectorate and is in the middle of an impressive rebuild. It's on an upward trajectory.
Despite having just over half of its pupils from very poor backgrounds, and eligible for free school meals (FSM), there is a strong sense of is energy, determination and aspiration.
The group that performs least well at GCSEs in England is white boys from poor backgrounds. Nationally, some 26% of these boys on FSM get five good GCSEs including English and maths but at Hastings Academy, 46% of that group achieve that.
Principal Theresa Phillips says: "We do not accept at Hastings Academy that your future is determined by your parental income."
But that does not mean there are not significant problems that schools like hers have to work hard to overcome.
She explains: "The group who arrive from primary school behind the average level of achievement are the pupils on free school meals."
So how do they help these youngsters catch up and even surpass expectations?
'Negative image'
Her "inspirational staff " challenge pupils to aim high with what she describes as a "single-minded determination", she says.
And in a coastal town with what one teacher described as a "pretty negative seaside end-of-the-pier image", it is not always easy to attract the best staff.
Mrs Phillips says: "It is challenging to recruit, particularly in the core subjects. There are not many applications for posts and we often have to readvertise.
"It requires a great deal of perseverance to wait until the exceptional candidate comes along," she adds.
Some if this has to do with transport networks, she says, but also perhaps the overall lack of investment in the town in the past.
The school also uses money from the government's Catch Up Premium - aimed at those starting secondary school behind in English or maths - to provide one-to-one support and small group tuition.
Community feel
And it uses funds from the pupil premium - a pot of money aimed specifically at children from low-income homes - to support families of children that are at risk of underachievement.
The school also puts its success at overcoming the odds down to its relationship with its key sponsor, Brighton University.
The link has undoubtedly raised aspirations in itself, she says.
But it is its idea of developing four schools within the one larger academy that has given the 750-pupil academy a more homely and supportive feel.
Partnership manager Amanda Crisford says this means pupils can be tracked and mentored carefully through that that tricky transition from primary school - the key time when pupils can drift and lose their way academically.
"The academy is broken into four individual communities of 220 pupils. They act as a social and emotional base for pupils."
The children register physically in their particular schools every morning and break into 15-pupil all-age tutor groups where progress and wellbeing are constantly reviewed. Each school is led by its own vice-principal and the intimacy between staff and pupils is palpable.
Jim Cameron - vice-principal for one of the schools, West Hill - says when it comes to all-important GCSE time, the candidates get a much higher level of support than if 150 children were in the hands of one single head of year.
Head girl Georgia is clear what has made the difference for her at school: "They started telling us quite young that we would achieve."
She has never felt her background or the area she comes from have held her back.
Instead, she says: "Because we are from a deprived background we have to work harder to get further in our education. So in a sense coming from a deprived background has pushed us further."