Nurseries 'lose £700 a year on free places'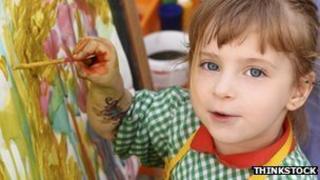 English nurseries say they lose an average £700 a year through shortfalls in grants for free pre-school places.
The National Day Nurseries Association's annual survey of childcare businesses suggests it does not cover costs in 82% of situations.
Three and four-year-olds are entitled to 15 hours' free childcare a week, but providers accuse local authorities of holding back some of the funds.
Childcare Minister Liz Truss said she was collecting data on the payments.
The association's chief executive Purnima Tanuku told its annual conference in Peterborough: "This is a major, major issue for us."
'Unfairness'
She said that NDNA research, based on responses from 196 nurseries, suggested many local authorities were withholding funds meant for front-line nursery provision of these places.
Ms Truss told the conference she had heard repeated concerns about the money not reaching the front line.
Her office had now started collecting data on how much of the local education authority grant was getting through to providers in different areas.
She said: "I've heard a lot of reports on this from nurseries. There clearly is unfairness in the system about the different money that different local authorities take.
"One of the things we are doing is getting more transparency on that. We are getting data from different local authorities about what they pay to different providers."
But Ms Truss left the conference without taking part in a planned question-and-answer session. She said an urgent parliamentary matter meant she had to return to Westminster.
The NDNA says the average hourly rate per child last month was £3.71, slightly up from the £3.66 last year.
'Salaries cut'
Mrs Tanuku said: "If all the funding that has been allocated to early years was spent on it then it would not be such a problem."
A shortfall in what is known as early years free entitlement funding is not a new complaint, but it is clear the scale of the reported loss has increased dramatically in recent times.
For nurseries offering free places, it has grown from £530 a year ago to £701.
Many nurseries charge extra fees to parents with children in full-time places to make up the difference.
Mrs Tanuku said many owners were working without taking full salaries just to make ends meet.
Shadow education minister Sharon Hodgson, who also spoke at the conference, said the problem was that the money was not protected and went into a budget that was cut by 40% since the coalition government came into office.
She added: "Now it's just an accounting line in a general fund."
Mrs Hodgson said she was also concerned the schools budget was heading for further cuts in the Comprehensive Spending Review next week.
A spokeswoman for the Department for Education took issue with the NDNA figures, saying that the government was giving councils more than £5 an hour to fund early learning for two-year-olds and that other reports have put the hourly rate charged by nurseries at £4.26.
"We know that childcare does not work for too many parents. The Government spends £5bn on childcare, the same as France, but while parents in England spend 27 per cent of income on childcare, in France that figure is only 11 per cent. That is why we are reforming early education by introducing childminder agencies, tax-free childcare and getting more money to the front line.
"A further package of childcare measures, which will seek to make it easier to set up childcare in schools, has not yet been agreed but will be announced shortly."