Wilshaw calls for end of private school 'splendid isolation'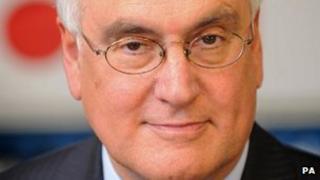 Independent schools should end their "splendid isolation" and work with state schools, says England's chief inspector of schools.
Sir Michael Wilshaw said there was a moral obligation to help raise standards, as well as an economic need.
Speaking at the Sunday Times Education Festival at Wellington College, he praised private schools which had made strong links with the state sector.
But he accused other private schools of making excuses for not doing more.
Independent school leaders hit back at the chief inspector, accusing him of being out of touch and unaware of the links between private and state schools.
Supporting the neighbours
Sir Michael said if independent schools did not do more to help, it would give "ammunition" to those who say independent schools should not have charitable status.
The status gives the schools a tax benefit.
"Those independent schools who choose to remain in splendid isolation will only give further ammunition to those questioning existing arrangements," Sir Michael told the education festival.
Sir Michael praised Wellington College for its links with the state sector. It set up the state-funded Wellington Academy in Wiltshire in 2009.
He also praised Highgate School, which has links with 21 London schools, offering their students summer schools as well as coaching for Oxford and Cambridge and medical school interviews.
And Eton, he said, was a co-sponsor of the London Academy of Excellence, a sixth form college in the deprived borough of Newham, also in the capital.
Head teachers in the state sector faced many challenges those in the independent sector did not, he said.
"It's a challenging, daunting role.
"I worry about these challenges and so should the head teachers of our public schools.
"The conferment of privilege should not denote exclusivity, but an implied duty to help the wider community.
"A fundamentally unequal society is no good for any of us in the long term."
'Direct challenge'
Sir Michael said Ofsted had looked at 30 leading public schools which had achieved perfect GCSE league table scores for their pupils in the past two years and then at the state schools around them.
He said more than 2,000 secondary schools were within 10 miles of at least one of those private schools and nearly 300 of them had been rated "less than good".
He said he was issuing a "direct challenge to independent school heads".
"You have got to talk much more about supporting your counterparts in the state sector than you do already - and translate that in to action."
Afterwards, Anthony Seldon, the master of Wellington College, told the festival: "I have never heard someone in a position of such authority in education give such a lead in ending the stagnant division between the state and the independent sector."
Matthew Burgess, the general secretary of the Independent Schools Council, said Sir Michael had "treated the audience to a headline-grabbing speech".
He said the chief inspector had "rightly praised" some independent schools for their links with the state sector but seemed to be "unaware of basic facts relating to the participation of the other 1,220 schools in the Independent Schools Council in genuine and meaningful collaborative work with their state sector colleagues".
"Sir Michael appears disappointingly out of touch with the breadth and depth of participation activity between the sectors," said Mr Burgess.
Education Secretary Michael Gove spoke at the conference later and said he agreed that more independent schools should do more to support state schools.
"I won't force any to, but I think people should check their privileges," he said.
"They should think about the moral intentions of their founders."