Strike hitting thousands of pupils in England, unions say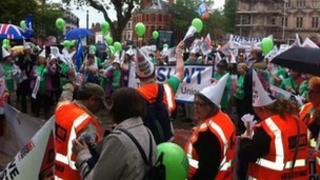 More than 2,700 schools in the north-west of England are facing disruption as staff take part in a one-day strike over pay and pensions, unions say.
The National Union of Teachers and the NASUWT say the strike is affecting 2,765 schools in 22 council areas.
The unions warn of more regional strikes and a national one-day walkout across England and Wales in the autumn.
The Department for Education said the action was disappointing and damages the profession's reputation.
But unions stress Thursday's strike has been "timed to avoid disruption of any public examination".
The action is in protest at the introduction of more performance-related pay, changes to teachers' pensions with higher contributions, and later retirement and increased workload.
'Damage profession's reputation'
Further regional strikes are expected after the summer holidays, followed by a national one-day strike in England and Wales before Christmas.
Education Secretary Michael Gove wrote to both unions in March to say he was willing to meet them to discuss their dispute, but also insisting that the "direction of travel" on both their key issues was "fixed".
A Department for Education spokesperson said: "Industrial action will disrupt pupils' education, hugely inconvenience parents and damage the profession's reputation in the eyes of the public at a time when our reforms are driving up standards across the country.
"It is disappointing that the NUT and NASUWT are opposing measures to allow heads to pay good teachers more. We have met frequently with the NUT and NASUWT to discuss their concerns and will continue to do so."
But Chris Keates, general secretary of the NASUWT, said: "Over the last three years, the coalition government has mounted savage attacks on teachers' pay, pensions and conditions of service.
'Sought to denigrate teachers'
"To justify these attacks and education reforms, the secretary of state has sought to denigrate teachers and present our public education system as broken. As a result the teaching profession is now in crisis.
"The responsibility for driving teachers to take industrial action rests entirely with an arrogant, reckless secretary of state who is determined to sacrifice teachers, pupils and our public education service on the altar of his own flawed ideology."
Christine Blower, general secretary of the NUT, said: "We seriously regret the disruption strike action in the North West of England will cause parents and pupils, but with the profession now under serious attack from the government we have to take a stand to protect education and teachers.
"The NUT and the NASUWT are asking the government to enter into genuine talks to resolve this dispute. The responsibility for today's action rests with the failure of the secretary of state to engage in meaningful negotiations."
Strike action is taking place in Blackburn with Darwen, Blackpool, Bolton, Bury, Cheshire East, Cheshire West & Chester, Halton, Knowsley, Lancashire, Liverpool, Manchester, Oldham, Rochdale, Salford, Sefton, St Helens, Stockport, Tameside, Trafford, Warrington & District, Wigan and Wirral.