London council grants for poorer university students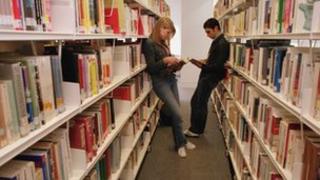 A council in one of the poorest areas of London is offering grants of £1,500 to help young people go to university.
Tower Hamlets is giving bursaries to 400 teenagers in what it claims is the biggest such scheme in England.
The grants, from a £1.26m mayor's fund, will help the least well-off students with books and travel.
The east London borough's mayor, Lutfur Rahman, said he wanted to ensure that local youngsters did not see university as an unobtainable "pipe dream".
The project reflects concerns that young people might be deterred by the cost of going to university.
Last week's spending review for 2015-16 included a £100m cut in the National Scholarship Programme, introduced to support poorer students.
Students in England are eligible for state-backed loans to cover tuition fees, which rose to a maximum of £9,000 a year last autumn.
There are also bursaries to cover living costs for low-income students, although the spending review announced that these would not increase with inflation in 2015-16.
There are scholarships available from individual universities, but such large grants from councils are unusual.
Another London borough, Southwark, also has a scholarship scheme where the council pays all of a student's tuition fees for their time at university, but numbers are limited. This year eight people were funded in this way.
Cornwall council is also planning a scheme.
'Pipe dream'
Tower Hamlets councillor Oliur Rahman said the borough's project was an "investment in the future".
"We are the first authority in the country to be backing our teenagers in such an innovative way," he said.
"Achieving a better education is better for the student, better for the student's family and better for the borough."
Under the scheme, £1,500 will be paid in two instalments over the first two years of a student's course and the idea is that the money would pay for living costs including text books and travel.
The east London council has budgeted for it to run for two years.
The mayor, Lutfur Rahman, said: "This is a wonderful opportunity for young people. For local teenagers who thought university was a pipe dream, I hope this scheme will change their minds."
Such schemes have been welcomed by the National Union of Students (NUS), which said many students could not afford to pay basic living costs.
The union's Pete Mercer said: "Investment in education creates a fairer and stronger society for everyone and, at a time when opportunities for young people are being restricted, every level of government should be committed to [the idea] that young people can afford to study."
The government argues that no one should be put off going to university because of money, because fees do not have to be paid up-front and graduates only have to pay back their loans once they earn more than £21,000 a year.