Gove says school RE has 'suffered'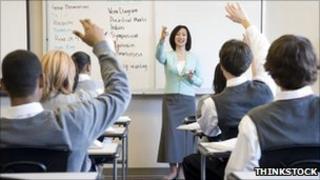 Education Secretary Michael Gove has told religious leaders Religious Education has "suffered" in England's schools amid government changes.
He said he had thought that because schools have to provide RE lessons, the subject was "protected".
Church leaders and RE teachers have complained that the subject is being sidelined and that fewer people are taking it for GCSE.
Mr Gove said he wanted to work with faith groups to improve RE teaching.
Speaking at a Church of England seminar on Wednesday, he said: "If I'm being honest, over the last three years I've thought, 'Well that's protection enough', [the fact that RE is compulsory] and therefore I've concentrated on other areas," he said.
"I think RE has suffered as a result of my belief that the protection that it had in the curriculum was sufficient, and I don't think that I've done enough."
There has been a campaign to get RE included in the English Baccalaureate - a league table measure of the proportion of pupils in individual schools who get five good grades in specific subjects.
RE teachers and supporters of other subjects, particularly art and music, have complained that pupils were being steered away from their subjects and towards those included in the English Baccalaureate - English, maths, two sciences, history or geography plus a foreign language.
At the seminar, Reverend John Pritchard, the Bishop of Oxford and chairman of the Church of England's Board of Education, told Mr Gove that this move, alongside other changes, had "been quite demoralising" for the RE community.
'Better course'
The government says the subjects included in the English Baccalaureate are the cornerstones of a good education and that the league table measure is helping to get more pupils to study them.
Mr Gove told the seminar that the decision not to include RE had been driven by the fact the subject was "safe".
"If we allowed it to become one of the humanities and it were in that pillar, that would mean that many schools in weaker positions would knock out either history or geography," Mr Gove said.
"In a choice between lots more people doing RE but a diminution in history and geography teaching or incentivising history and geography while knowing RE was there, I thought the latter was a better course."
By law, state schools in England have to include RE in the curriculum, but as in the case of sex education, parents can opt to remove children from such classes.
John Keast, chairman of the Religious Education Council of England and Wales, said: "We welcome this first indication that Mr Gove finally recognises that there is an issue.
"RE is a popular and academically rigorous subject, however this government's actions are resulting in fewer specialist teachers, lessons being cut and exam entries going down."
The group - which represents religious organisations plus academic and professional associations involved in RE - would be happy to meet Mr Gove, he added.