NSPCC charity warns parents of child abuse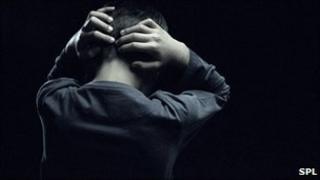 A children's charity is launching what it calls an "underwear" campaign to get parents to talk to their children to protect them from sexual abuse.
The NSPCC is telling parents to tell their children "privates are private" - using an acronym based on "PANTS".
The campaign is aimed at parents of five- to 11-year-olds.
The charity says a survey it commissioned showed that half of parents asked had never spoken to their children about the issue.
A total of 1,200 parents took part in the research by YouGov and of those who said they had talked to their children, 43% said it had been a difficult conversation.
The NSPCC says because most sexual assaults on children are made by people they know, it is vital that they understand at an early age that some types of touching are not right.
The campaign, launched on radio and online on Monday, advises parents to explain to children about what it calls "the underwear rule", using the acronym PANTS, which is that:
Privates are private
Always remember your body belongs to you
No means no
Talk about secrets that upset you
Speak up, someone can help you
The organisation's chief executive Peter Wanless said parents did not need to mention sexual abuse - and could tailor what they said to their child's age and situation.
"We must educate our children about staying safe and speaking out. Parents have told us they lack confidence in approaching this difficult but important issue," he said.
"We've worked with parent groups to devise a simple, age-appropriate way of making sure children speak up if something happens. It's a quick conversation but could make a big difference."
'Worst nightmare'
He said no one was trying to make children ashamed of their bodies, or stop hugs or other shows of affection.
The Netmums website is supporting the campaign. Co-founder Siobhan Freegard said: "It's every parent's worst nightmare to find their child has been touched inappropriately - and no family wants to think it will ever happen to them.
"But as the statistics show it does happen to one in 20 kids, and nine times out of 10, by someone known to the child. So by talking about it, you are taking the first steps to keeping your children safe.
"No one can deny it's a tough conversation to have. As a mum I can talk openly to my children about stranger-danger. I can talk easily about bullying and how to always tell an adult. But talking about them being touched intimately feels much more difficult."
Marilyn Hawes, founder of the charity Enough Abuse, agrees it is vital to talk to children about the issue - so that they are ready to tell someone when "something does not feel right" with adults they have been led to trust.
She says her sons were abused by someone who became a trusted family friend.
But she says parents need to watch for changes in behaviour or attitudes to other adults too.
"Talk all you can but don't ignore the behaviour. I watched it for 20 years," she said.
"Paedophiles groom the adults before getting to the children. I was told by the police it could take seven years [before they abused children they had been getting to know] and that the wait might give them a buzz.
"They will be looking for a window of opportunity over many years, so that they are there, offering to help by picking up your daughter when you are stressed or have to go to hospital."
Ms Hawes thinks the campaign will not work on older primary school children, who she says will "probably laugh".
The NSPCC says it will complement one it is running where Childline staff visit "every primary school in the UK" to advise children on how to stay safe from all forms of abuse.
Children's minister Edward Timpson said: "Simple conversations can help keep children safe from sexual abuse. This is a great campaign to help parents and carers feel more comfortable explaining difficult issues to their children."
At a conference last week, the head of the Association of Directors of Children's Services, Andrew Webb, said recent cases had raised public awareness "about a level of abuse and degradation that most people would have thought impossible in our society".
He said creative ways of raising awareness about child abuse through schools and communities had emerged, but child sex abuse had to be dealt with "head on as a social and cultural issue, an issue of values and morality".