What can five-year-olds be expected to learn?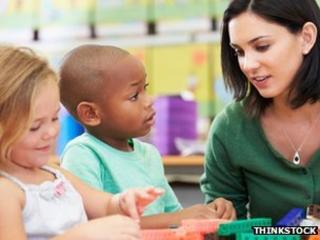 The world of a five-year-old is about to get a whole lot more demanding thanks to the introduction of a new national curriculum.
From understanding algorithms, writing and debugging simple computer programs, to reading aloud in class, England's young children are being put under starters' orders.
In maths, those in Year One will have to skip with ease around numbers to 100, not to mention their two, five and 10 times tables.
But how much can a five-year-old realistically learn?
As every teacher will tell you, children's development in the five to seven age group, known as Key Stage 1, is elastic.
Parents are constantly reassured that youngsters progress at different rates and at different speeds. And with a bit of careful nurturing, teachers try to ensure today's late bloomer can still be tomorrow's Cambridge graduate.
But critics fear that making things tougher, earlier, could be a counterproductive move, as children who do not progress so fast may feel that they are failing.
Primary education specialist John Coe says the notion that learning more earlier nets better results is not supported by academic research.
He says: "There is a unanimity of view among professionals and academics that this is beginning to exceed the personal and developmental capacity of children who are five and six years old."
'Ready-cooked kids'
The veteran head teacher, and spokesman for the National Association for Primary Education, adds: "Young children learn through their own direct experience, through things in which they are involved, that happen to them in a multi-sensory way - their touch, their sight, their sense of smell.
"Experience is the great teacher of the young."
It is only as they mature, he says, that they are able - with the help of skilled educators - to cement learning experiences into ideas that they can hold in their minds.
Primary education expert Jean Gross says: "There's an assumption that children come to school ready-cooked at five, that they have developed the basics but for a large proportion of children in this country that's just not the case."
A former director of the Primary National Strategies, which guided learning in schools for almost a decade, she says: "Children need continued work in schools to develop the skills of speaking and writing, managing their feelings and developing their social skills and getting on with others.
"It's much more important for children to be learning these skills than to be absorbing facts or reading aloud in class.
"It's going to be really difficult with summer-born children and those with special educational needs who are going to be pushed too soon with inappropriate learning."
Are we there yet?
Dr Terry Wrigley, a key co-ordinator of an academics' open letter of opposition to the proposals sent to Michael Gove earlier in the year, describes the plans as "a Pied Piper curriculum - the children have disappeared".
"Many five-year-olds will struggle to name 3D shapes or 'instantly' subtract seven from 16," he says.
"It is unrealistic to expect children to calculate 5/7 + 1/7 = 6/7 by the age of seven. Can we expect most five-year-olds to spell Tuesday and Wednesday correctly, or six-year-olds to spell 'national' or 'merriment'?"
"Young children are becoming very skilled at using technology but how many 5-7-year-olds will be able to learn how to 'create and debug simple programs'?"
Take a child's understanding of time. Anyone who has gone on a motorway journey with a child or planned a birthday party for one will know that young children of this age struggle with the concept.
But Harry Hastings, former history teacher and incoming head at Brighton College Preparatory School, says this does not mean we should not try to teach history chronologically to primary school children.
He uses a timeline stretching all the way round the classroom, running from 1066 to the present day, to reinforce the notion of chronology.
He has even created his own series of History Heroes card games to reinforce key facts about monarchs and explorers.
"The more one does these things the more it successfully fits together," he says.
Elizabethan TV-set?
"We are not going to expect every child to get it first time. We know that last week is a long time ago for a child, and it's difficult to understand that it's seven months until your birthday if you are five.
"But we have got these dates so we might as well use them to create some sort of scaffolding."
He adds: "I like the idea of a chronology sitting together with development. We look at the way we are and the way we have developed."
He has used all sorts of techniques to get children appreciating the span of time, such as covering 500 years of history in four days through a series of trips to numerous different historical sites in Kent, Sussex and London.
But the one he holds as the best example of how children are challenged by the idea of the past, is his use of the Armada painting of Elizabeth I, thought to be commissioned by Sir Francis Drake.
"Elizabeth is sitting there and through the window you can see the Spanish Armada being defeated. It's a great piece of propaganda; she has her right hand on the globe," he says.
"The globe is sitting on a dark table and a pupil in one of my classes once asked, in all seriousness, is that a television sir?"