Student visas cost universities £67m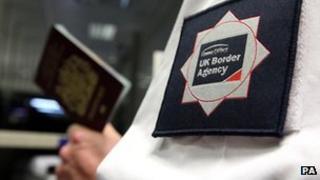 Confusion over a new student visa system saw UK universities spend £67m in 2012-13 to meet Home Office requirements, a study says.
The Higher Education Better Regulation Group (HEBRG) claims this outlay is up to £27m more than previous estimates.
The HEBRG said confusion over what was required and "constant rule changes" had led to waste and overspending as universities sought to comply.
The Home Office said it had overhauled student visas to tackle abuse.
The Tier 4 points system for student immigration was introduced in March 2009 to control the entry of students to the UK from outside the European Economic Area.
Under it, higher education providers must adhere to strict guidelines and undertake precise recordkeeping.
Failure to make the required checks saw London Metropolitan University temporarily lose its licence to sponsor overseas students in August 2012.
Improved monitoring
The HEBRG study, based on the experiences of 24 higher education providers, found annual costs of complying with the new visa requirements ranged widely, from £4,366 to £772,537 a year.
The average annual cost for the universities was £357,948 and the annual cost per Tier 4 student ranged between £46 and £2,392.
The research estimates that the overall annual costs for the whole HE sector Tier 4 compliance in the academic year 2012-13 was £66,800,910 - up nearly £27m on an estimate by the Commons Public Accounts Committee of £40m.
The HEBRG report said: "The perception in the HE sector is that costs have been higher for providers than they need to have been."
However, it did find HE institutions had seen some benefits from the Tier 4 regulations, such as more standardised admissions standards, improved monitoring of international students and more focused and better resourced international students.
Universities had also noted improved retention rates, improved progression and completion rates and fewer low-quality providers.
'Varied interpretations'
Andrew Boggs, policy adviser at HEBRG, said: "Higher education institutions are prepared to meet Home Office expectations on student visa compliance, but confusion over requirements and constant rule changes have led to waste and overspending in an effort to comply.
"This study took a representative sample of higher education providers with international [non-EU] students. We found that, on average, they are investing £312,000 to £358,000 per year to meet visa oversight requirements.
"However, there is tremendous variability between institutions. One institution was found to be spending 50 times more per student than another to meet regulations, yet both are meeting Tier 4 visa requirements.
"We found that this variability cannot be explained by economies of scale or intensity of international student enrolment. The data points to irregular and varied interpretations of Tier 4 visa compliance requirements across institutions."
Nicola Dandridge, chief executive of Universities UK, said the report highlighted how seriously universities took immigration compliance.
"But confusion about requirements and constant changes to the visa rules have resulted in unnecessary costs for universities.
"There is a clear need now for the Home Office to implement a period of policy stability and use this time to engage more constructively in relation to universities and student visa rules.
"The priority must be to make sure that the student visa route works efficiently and instils public confidence, and that genuine international students are encouraged to come to the UK."
'Widespread abuse'
A spokesman for the Home Office said: "The student visa route we inherited was open to widespread abuse and neither controlled immigration nor protected legitimate students from poor quality sponsors.
"We have overhauled the student visa regime to tackle abuse and figures show our changes are having the right effect.
"Most recent statistics show a 5% increase in the number of sponsored student visa applications for our world-class universities while net migration is at its lowest level in a decade."
The HEBRG was set up in 2010 to address changing public and political attitudes towards accountability and a changing regulatory landscape in higher education.
It is supported by Universities UK and GuildHE, and is funded by the Higher Education Funding Council for England, the Scottish Funding Council and the Department for Employment and Learning (Northern Ireland).