'Small drop' in GCSE science grades expected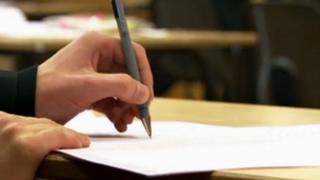 The exams watchdog Ofqual says it expects a "small drop" in grades in some of this year's GCSE science results.
The warning comes in a letter sent to schools in England, setting out plans for changes to GCSEs and A-levels.
The exams have also been taken by students in Wales and Northern Ireland.
The Department for Education said it wanted "high-quality" GCSEs and it was for Ofqual to "appropriately" set standards in awarding qualifications.
It is the first year a new version of GCSEs in biology, chemistry, physics, additional science and additional applied science will be awarded.
The watchdog says the syllabuses and exams for the subjects were changed because they were not tough enough.
"These GCSEs are designed to be more challenging, because the previous syllabuses did not adequately test the subject content and were not sufficiently demanding," the letter says.
"Although we cannot be sure until results come in, we are expecting a small drop in achievements overall rather than anything more substantial.
"The picture may be different school by school."
Brian Lightman, the general secretary of the Association of School and College Leaders (ASCL), which represents most secondary heads, said it was going to be a "very tough year" for students, especially if grades dropped.
"Students are working harder than ever before and their teachers are working harder than ever to do their best for them," he said.
"It's very demoralising for students to be told that the examinations they took were too easy."
A spokeswoman for the Department for Education said: "We want GCSEs to be high-quality, demanding qualifications comparable to those in the world's best-performing education systems.
"It is for Ofqual, the independent regulator, to ensure that standards are set appropriately in the awarding of GCSEs."
Changes to these science exams were set in motion several years ago, before the election of the coalition government, which has since announced and made widescale changes to the exams system for England.
Education Secretary Michael Gove believed the existing system was not challenging enough and that it encouraged exam boards to "race to the bottom" in terms of standards.
The watchdog's letter to schools sets out the planned changes and those which are still being consulted on. Ofqual has also set out a timeline to show when the changes are due to come in.
Pupils in Wales and Northern Ireland also take GCSEs and for now, education ministers there have said they do not intend to move away from the existing GCSE and A-levels, but the growth of divisions in the system could bring confusion.
'Enormous uncertainty'
Other changes for England include the move to linear exams for GCSEs and A-levels, meaning that exams will be taken after two years of study rather than in stages or modules.
Next year will be the first time results are given for the new linear GCSEs, but the move to linear A-levels is planned to begin in September 2015, when teaching for those qualifications will begin.
The letter also details the limiting of re-sits and move away from coursework.
Mr Lightman said Ofqual's letter was helpful to schools, but highlighted the "vast range of reforms that are going on and the enormous uncertainty across the system".
"Teachers, students and parents are completely confused by all of these changes that are going on," he said.
Ofqual's chief regulator Glenys Stacey has already said she expects exam results will "vary more than normal" for several years as the new exams become established.
The watchdog won a legal challenge from schools, heads and pupils over the grading of last year's English GCSE results, after exam boards were told to move grade boundaries.