London tops university crime risk rankings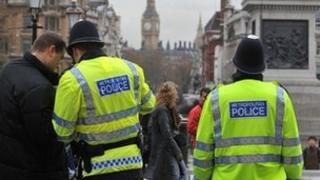 London universities are at the top of a ranking of crime rates around universities in England and Wales, with Aberystwyth having the lowest local crime level.
The study shows levels of three types of crime near universities - burglary, robbery and "violent crimes".
The highest levels are around King's College London in London's West End.
Hull has the highest local crime rate outside London, while Durham and Winchester have among the lowest.
The local crime rankings, based on police data, have been published as part of the Complete University Guide.
As well as making academic comparisons, this guide shows the type of crime risks that might face students.
Crime risks
These figures include crimes around universities affecting students and non-students, because there are no separate crime figures for students.
But the three categories of crime have been measured as being among the most likely to affect students. The "violent crime" category includes common assault, grievous bodily harm and sexual offences.
London is considered separately in this analysis, reflecting the higher levels of crime in the capital, affecting tourists and visitors as much as students. Kingston and St Mary's in Twickenham have the lowest crime levels among universities in the London area.
Outside of London, Hull has the highest level of these types of crime, followed by six universities in the Manchester and Birmingham areas.
Bernard Kingston, who produces the guide, said students and their families might not be "aware of the risks in the areas around their chosen institutions".
He also says that there should be official data showing crime levels, which could be used by families thinking about university applications.
"All prospective students should be able to assess the risks for individual institutions with much greater precision, and, in the absence of data for crimes affecting university students specifically, either on or off campuses, this survey offers the best available guide.
"But it would be reassuring for university applicants and their parents if such information was readily available from the universities. It is clearly a matter of considerable concern when considering where to study as an undergraduate.
"Our universities do not exist in isolation from the communities within which they are located, and, regrettably, crime is a constant presence."
A spokeswoman from King's College London highlighted that its local crime figures would also include major transport hubs such as Waterloo and London Bridge stations and that "London faces similar challenges to many other major cities in dealing with crime".
"We regularly communicate the importance of personal safety to students, through our welcome and orientation sessions which include student safety advice from the Metropolitan Police, through leaflets and our website.
"Serious incidents involving students are an exception and we have college and students' union welfare teams available to provide professional support in these small number of cases."
In the United States, universities are obliged to produce detailed crime statistics, showing crimes affecting students on and off university campuses.
This information, a legal requirement for universities receiving federal funding, is published on university websites and is meant to inform prospective students about the impact of crime in recent years.
This includes details such as the number of violent crimes, burglaries, robberies, sexual offences, weapons violations, vehicle crime and drug arrests.