Primary place shortfall of 120,000, claims Labour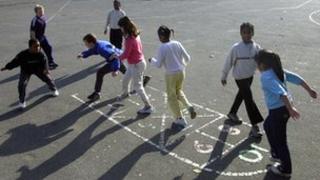 Labour has accused the government of not doing enough to combat a shortfall in primary school places in England predicted for September.
Despite increases in school capacity there will be 120,000 fewer places than there are pupils, according to the party's analysis of government figures.
Thousands of parents "face a summer of worry" said shadow education secretary, Stephen Twigg.
The government said Labour's calculation was "simplistic".
Labour's analysis compares the figure of more than 230,000 extra primary places which the National Audit Office has said will be needed by September with the 110,000 places which the government has said will have been created by local authorities.
'Overcrowded'
This leaves a shortfall of 120,000 says Labour which will mean many parents "will have to scramble for a place".
"When schools start again in September, parents will see more overcrowded classes and temporary classrooms on playgrounds," said Mr Twigg.
"In some cases even the school library and music room may have shut to create new classrooms."
A spokeswoman for the Department for Education said: "The claim that there will be a shortfall of 120,000 places is based on a simplistic and totally flawed calculation that does not take into account existing surplus places.
"In fact, our latest survey shows that there are around 400,000 surplus primary school places across the country and we expect a further 110,000 extra places to be created by September."
The spokeswoman said the government would spend £5bn by 2015 on new school places, "more than double the amount spent by the previous government in the same time frame.
"In addition nine out of 10 primary free schools approved last month are in areas of basic need, and last week we announced a further £820m to create 74,000 extra places where they are most needed."
Labour said the government's free schools programme was failing to provide places in areas of shortage.
"Labour would sort out this mess by ensuring primary schools are built where they're needed, instead of wasting hundreds of millions building free schools in areas where there are already enough places", said Mr Twigg.
Natalie Evans of the New Schools Network, which represents free schools, said: "Nearly 70% of all open or approved free schools have been set up in areas where there is a need for places.
"At this rate by 2015 free schools will have created an additional 250,000 places, an important contribution to tackling the current shortfall in school places."
Primary squeeze
The squeeze on primary places stems from a rising birth-rate and increased immigration.
In March, the National Audit Office said in excess of 230,000 primary places would be needed in time for the next academic year, with one in five primaries full or near capacity amid signs of "real strain" on places.
The report also warned that although all regions would need more primary places the shortage was not evenly spread. The greatest pressure is in London which accounts for a third of the places needed, it said.