Dozens of 'outstanding' schools downgraded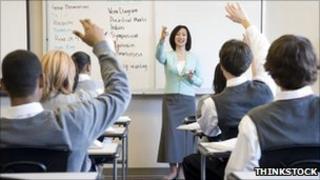 More than 100 schools previously rated "outstanding" by Ofsted inspectors have lost their top rankings after changes to the system in England.
The schools have been reinspected since September, after changes aimed at putting more weight on teaching.
In the past, it was possible to be rated outstanding even though inspectors judged teaching and learning were not of the highest standard.
But that was changed in September, when other new rules also came in.
Now only schools that are rated outstanding for teaching and learning can normally get the highest ranking.
The latest figures show that out of 155 schools inspected since last September which had previously been rated outstanding overall but not for teaching and learning, fewer than a third - 44 schools - kept that ranking.
Of the others, 91 schools were rated "good", while 20 were told they needed to improve. Two of this last group were given the lowest rating of "inadequate".
'Close link'
Ofsted says parents expect that outstanding schools should have outstanding teaching.
A spokeswoman said: "The inspection framework introduced from September 2012 raised expectations. Teaching is, of course, central to the life of every school. That is why there should be a close link between Ofsted's overall effectiveness judgement and the quality of teaching.
"It makes sense that outstanding schools should have outstanding teaching - parents expect that.
"This doesn't mean that every lesson needs to be outstanding but, over time, schools must show outstanding teaching is helping pupils make excellent progress."
However, the spokeswoman added that other factors, apart from the quality of teaching, may have contributed to the downgrading of the 111 schools.
Outstanding schools no longer have to be inspected regularly, while schools categorised as "good" are checked at least every five years.
For outstanding schools, Ofsted says it carries out a risk assessment which includes checks on schools' exam or test results, and if there are any causes for concern, inspectors are sent in. A change such as the addition of a sixth form would also lead to a new check.
Overall, 70% of schools in England are rated either good or outstanding.
One in five of all schools was rated outstanding in August last year - about 4,400.
Of those, one in four does not have the top ranking for teaching and learning.
Jan Webber, inspection specialist for the head teachers' group ASCL (Association of School and College Leaders), said Ofsted had made it clear that there was to be a greater focus on teaching quality, so the loss of some outstanding rankings was "not surprising".
"When Ofsted do the risk assessments, it could be that if a school graded outstanding has a two for teaching, they will then dig deeper into pupils' progress and results," she said.
"If there has been a dip in achievement overall or key groups are underachieving, such as students with special needs or on free school meals, that could trigger an inspection."
Moving goal posts
At its Easter conference, the National Union of Teachers called for Ofsted chief Sir Michael Wilshaw to resign, saying he was demoralising the profession. It also pledged to continue a campaign for the abolition of Ofsted. The teaching unions have questioned the quality of inspection teams.
Christine Blower, the general secretary of the NUT said: "By constantly changing the goal posts of what constitutes a good or outstanding school it makes it very difficult for schools to reach the targets imposed by Ofsted and government.
"This is especially the case for schools if they serve in challenging communities as less and less attention is given by Ofsted to the value schools add to their pupil achievements in relation to their low starting point."
Justine Roberts, the co-founder of the Mumsnet website told BBC News: "Many Mumsnet users welcomed the planned Ofsted changes when they were announced last year, hoping it would encourage more competition and loosen the stranglehold of consistently top-ranking 'outstanding' schools in each area.
"That said, others have expressed concern that the new rating system puts too much stress on already hard-pressed teachers."