'Super-head' suspended in IT deal relationship claim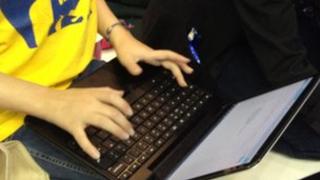 A "super-head" praised by the education secretary has been suspended during an investigation into a contract to supply computers to five primary schools.
Greg Wallace, of Best Start Federation schools in east London, stepped aside just before the end of term.
Hackney Council's investigation centres on allegations the contract was awarded to a company run by a man with a close personal relationship to Mr Wallace.
The council also decided to limit the powers of the federation's governors.
In a statement the council said it had "withdrawn financial and staffing powers from the governing body of the Best Start Federation as part of an ongoing investigation".
Claims rejected
A member of the federation governing body confirmed to BBC News that Mr Wallace had been sent home on full pay and the five schools he managed would be run in his absence by their individual head teachers and Hackney Learning Trust (HLT), which operates education in the borough.
The governor said she understood the investigation was into the awarding of contracts to provide and service computers to the federation's schools to the IT company C2 Technology, one of whose directors, Tony Zangoura is reported to have a close personal relationship with Mr Wallace.
A statement on the federation's website says: "We understand that HLT has concerns about the computer contracts in the schools and Greg Wallace's relationship with the provider C2 Technology."
The governors add that they have "asked for but not been given any information about the precise areas of concern".
"While no system ever operates perfectly, we refute entirely that there was persistent lack of governance or worse, misfeasance by this governing body," the statement says.
The statement says that Peter Passam, who was chairman of governors of two of the schools that now make up the federation when the first contract was signed with C2 Technology in 2009, "made clear to the investigating team during his interview with them in June 2013 that he knew about this connection and that the contract was awarded on quality and value for money".
Mr Passam said: "Greg Wallace was always open with me about his connection with C2 Technology.
"The contract was judged on its value and its quality.
"We have been very satisfied with the work which has given the children access to modern technology at a competitive price.
'Magnificent seven'
"Greg Wallace and his senior management team have transformed the five schools in the Best Start Federation.
"We now have schools that provide a strong primary education for over 2,000 children.
"I believe that C2 Technology has provided value for money support for our schools."
The governors, who include Henry de Zoete, a special adviser to Education Secretary Michael Gove, have now written to the Department for Education asking for intervention.
Last year Mr Gove described Greg Wallace as one of a "magnificent seven" head teachers running outstanding schools in challenging circumstances in deprived areas.
A DfE spokeswoman said: "This is a matter for Hackney Council to take forward.
"Their investigation is independent and it would not be appropriate to comment until it is complete."
The spokeswoman added that any decision on whether to intervene would be taken by a minister other than Mr Gove.
Plans to convert the five schools in the federation to a multi-academy trust outside the control of the council have been put on hold pending the outcome of the investigation.
Mr Wallace was unavailable for comment.