Criminal gangs target Student Loans Company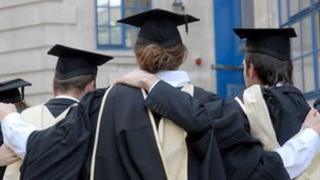 More than £6.5m of tax payers' money was paid out on fraudulent student loan applications last year, data shows.
Some 2,450 applications from England, Wales, Northern Ireland and the EU were deemed suspect, figures obtained by Radio 4's You & Yours showed.
And in 875 cases, payments were made before suspicions were raised.
The Student Loans Company (SLC) said it works with police to tackle the problem and that it was being targeted by "organised and sophisticated gangs."
The figures mean that three times more student loan applications were cancelled last year due to suspected fraud than the year before - which is seven times more than in 2009.
While on the rise, the figures remains small with about 1% of the total number of accounts linked to fraud.
Undetected
The SLC said part of the rise was due to new systems successfully identifying bogus applications.
It estimated these measures prevented a further £13.8m of fraud, but the company acknowledged some offences do go undetected.
In May this year, the ringleaders of a plot which made £380,000 from the SLC were sentenced to a total of seven years in prison.
The scam involved providing false exam certificates to applicants who then applied for university courses and student loans.
The gang then charged £1,000 for the documents and took a cut from the loan payments.
In a different case in 2011, another gang targeted students directly rather than the SLC.
Thousands of individuals were sent so-called phishing emails which appeared to be from the loans company asking them to update their details.
Instead of the official website, the links in the emails directed them to a site controlled by another gang. A total of £1.6m was taken from hundreds of students across the UK.
Heather Laing, fraud prevention manager at the SLC, said a team of 24 people were dedicated to tackling fraud and worked with police.
She added: "Students are often targeted at the three main instalment dates in September, January and April and they need to work with us to ensure their identity and financial details are protected and not compromised."