Students 'feel rushed by clearing process'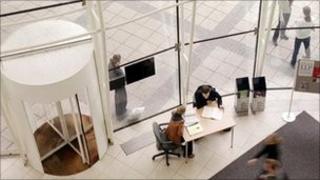 Students who apply for degree courses after getting their A-level results may feel stressed and rushed into making decisions, a survey suggests.
A poll by consumer group, Which, found more than one in four of 390 first-year students who got a university place through clearing felt unprepared.
Thousands of teenagers will enter the annual clearing process on Thursday.
But admissions service Ucas said 94% of those placed through clearing last year were confident with their choice.
Which surveyed 390 first-year university students and found that 20% who gained their place through clearing felt unsupported and on their own during the process, while 27% felt unprepared and 38% felt panicked.
Almost half, 48%, describe their experience of clearing as stressful.
In other findings:
37% said they felt pressured into taking the first offer they got through clearing, while 45% rushed into making a decision about where to go
40% said there was a lack of information and advice available for those going into clearing
46% felt prepared when contacting universities about available courses and 73% were not sure what to expect when they called them.
13% of clearing students were not satisfied with their university compared to 6% of other students.
10% of clearing students were dissatisfied with their choice of course compared to 6% of other students.
'Pressured'
Jenni Allen, from Which University, said: "Choosing the right university and course is hugely important so even in clearing, students shouldn't rush or feel pressured into a decision they may later regret.
"Students should use free advice sites like Which University which has a wealth of practical, impartial information to help students going through clearing this year."
Helen Thorne, Ucas director of policy and research said: "An Ucas survey last year found that 94% of those placed in clearing were 'very confident' or 'fairly confident' that they made the right choice.
"Clearing has become a respected application route, evidenced by the fact that record numbers (55,000) were placed through the scheme last year.
"Ucas works hard to ensure that applicants understand the process and can get information through telephone and social media channels.
"However, most people making such an important decision also need personal guidance from teachers, family or friends."
The survey comes the day before around 300,000 students in England, Wales and Northern Ireland prepare to receive their A-level results.
Last year, 55,700 students accepted places through clearing - up 8.9% on the year before.
A total of 1,300 applications, more than double the previous year, were accepted through the Adjustment system, where those who have got better than expected results can apply for a more prestigious course or university.
Last week the Girls' Schools Association urged teenagers to keep their parents away from the telephone as they tried to secure university places, for fear this would send out the wrong message to admissions staff.