School that failed Ofsted last year now 'outstanding'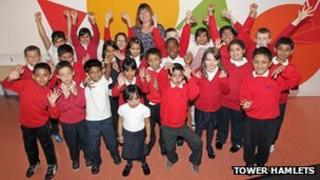 A school put into special measures by Ofsted last year has achieved an outstanding rating from inspectors just 16 months later.
Manorfield Primary in London is among only four out of 56,000 schools inspected since 2005 to have managed such a feat.
"This school does not stand still. Improvement is not temporary," said the Ofsted report, published last week.
Head teacher Wendy Hick described the turnaround as "amazing".
Ms Hick, a former school-improvement consultant and head of a nearby school, was asked by the local authority, Tower Hamlets, to step in to help Manorfield after it was declared inadequate and placed in special measures in February 2012.
Transformation
Then, inspectors criticised pupils' poor standards in writing and maths and said that the quality of teaching and management was inadequate, with a lack of rigorous monitoring and support hindering improvements that were needed.
At the school's next full inspection in July this year Ofsted found an entirely different picture.
This time inspectors rated the school as outstanding, finding that all pupils met national standards, particularly in writing and maths, teaching was "highly effective" and leadership "exceptional".
"Most pupils exceed their targets, with a few excelling in mathematics," they said.
The inspectors praised teachers as "innovative and knowledgeable", and described the quality of leadership and management at all levels as "outstanding".
Ms Hick, who was appointed permanent head of Manorfield in January this year, described the staff as "incredibly resilient to have gone through such an experience".
"They were an amazing staff group to work with. The whole school community have been fantastic.
"It's great for them to have been on that journey."
She said the key to the turnaround had been giving the school community "clarity of vision and a tight focus on whole school priorities".
Staff empowerment
"I was very much determined not to go in as an autocratic leader.
"It was very much working with the staff, staff motivation and empowerment and working collaboratively together. There's a real sense of purpose now".
Ms Hick told BBC News that as a head teacher she was "very interested in staff development, in developing individuals' talents and helping staff realise their own potential as teachers".
"Just because the school was in special measures did not mean there was no good practice in classrooms," she said.
She said that a key area of improvement had been in literacy and maths teaching, adding that the school had received a lot of support from the local authority.
Tower Hamlets Mayor Lutfur Rahman said the borough would "continue to do all we can to support schools to fulfil their potential and the potential of our young people".