New term, new battle over homework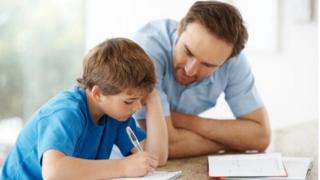 The long summer holidays are over - bedtime is coming back into line, the first days of term have gone well and everyone has settled back into the rhythm of school. Parents are feeling justifiably relieved - only to find a book bag full of homework to brighten up the weekend.
"Homework should not be causing your child (or you!) stress or anxiety," a teacher's note accompanying my daughter's list of tasks said. "Homework," it went on, "is set so that families can support their child's work in school."
Now, most parents will be only too keen to support their children's work in school, but if only it were a stress- and anxiety-free activity. The reality for many families is that homework is a flashpoint for tears, tantrums and arguments.
Of course, some parents see homework as a reassuring sign that a school is taking pupils' academic progress seriously and even base their choice of schools on the amount of homework set.
But for others it is another task to stage-manage in the already fraught and busy cycle of family life - and all the more so for primary-age children who are not old enough to take responsibility for completing it unaided.
Prof Sue Hallam, of the Institute of Education at London University, has researched the subject of homework extensively. She believes much of the friction for families is down to increased amounts of formal written school work making its way onto the family kitchen table.
"In the past children would be sent home with a spelling list of 10 words and be expected to learn their times tables," said Prof Hallam.
"What is happening now is that children are given written work and that's where the problem starts - Mum and Dad try to help and of course teaching methods have changed and that can confuse them. Parents get upset and the child gets upset.
"It is often when homework is formal school work that the problems start at primary level. It's the kind of homework being set that is some of the problem, I think.
"You have to put this in a social context - a lot of parents are working and the last thing they want to do after the stress of a day's work is supervise homework. They want the time they have with their children to be quality 'nice' time."
Homework guidelines
The current trend for formal primary school homework began in 1998, when the then Education Secretary, David Blunkett, put out voluntary recommendations for schools in England and Wales and offered support for the introduction of homework clubs.
The guidelines suggested pupils in Years 1 and 2 (ages five to seven) should do 10 minutes of homework a night, stretching to 30 minutes a day for pupils in Years 5 and 6 (ages nine to 11).
They recommended pupils in the first year of secondary should be doing up to 90 minutes a night, increasing to up to two and a half hours a night for those studying for their GCSEs (Years 10 and 11).
In her book, Homework: The Evidence, Prof Hallam says that in 1997, 64% of primaries had a homework policy, but just two years later, 90% had policies, including 100% of junior and 75% of infant schools.
In defence of his recommendations, Mr Blunkett told the BBC they were "not some sort of central imposition", rather an attempt to raise attainment for all.
"Guidelines were brought in because of the complete disparity between some schools who were offering no homework and those expecting an enormous commitment by families," he said.
"The problem we were identifying was that highly educated and often better-off parents not only wanted homework but chose schools that offered this additional reinforcement.
"We were trying to offer something for everyone in raising standards for all, rather than reinforcing the advantages or disadvantages of family background."
Mr Blunkett's homework guidelines were scrapped in England in March last year by the current Education Secretary, Michael Gove.
This does not mean Mr Gove does not believe in homework, rather that head teachers should decide the best approach for their pupils, free from "unnecessary bureaucratic guidance".
Raising attainment
But while this government takes a hands-off approach to homework, the pressure is still on, as Prof Hallam points out.
"Primary schools are under pressure to get high levels for pupils at Key Stage 2 (age 11). This government has ratcheted up the number of children that must get these levels or the school can be forced to become an academy," she says.
"Schools will do everything they can to avoid that. Homework therefore is a means of getting children to do more and more work, which will help them achieve the levels they need."
So as the scrutiny of Ofsted inspections, league tables and forced academisation continues, at least in England, homework is unlikely to be scrapped.
Indeed, for many schools it is an essential way of ensuring pupils achieve their full potential. For example, for the Ark chain of academies, homework is seen as a vital means of raising standards.
Amy Baird, head teacher at Ark John Keats Academy primary school in Enfield, London, says: "Even when they are young, children benefit from the chance to practise and embed what they've learnt at school.
"For the youngest children that might be practising phonic sounds with their parents and, as they move up primary school, it's really valuable to ensure children really understand the mathematics and English that they've learnt during the day."
Kieran Larkin, principal of the Ark King's Academy, Birmingham, says homework helps develop an independent work ethic.
"Homework is a way to learn practical research skills - using the library, devising questionnaires or interviews and conducting online searches - not just accepting the first Google hit as a universal truth. These are essential - and enriching - skills for later life.
"Homework provides time to practise - it provides time to embed the things that are useful to learn by rote, such as times tables, vocabulary, spelling, irregular verbs and handwriting."
Staying sane
So if homework looks set to continue to cast a shadow over the family kitchen table, what strategies might families adopt to stop it spoiling the weekend?
Jeremy Todd, chief executive of the parenting charity Family Lives, says: "Homework needs to be part of the family routine. Parents need to create a space for children to do the work without the television or radio blaring out and follow up on work handed in, asking if they've had any feedback."
Anne Longfield, chief executive of the charity 4Children, adds: "Homework is a good thing - families investing in support for learning is the thing that really helps achievement.
"The challenge for schools is to find ways of presenting homework that is meaningful to children in their leisure time - and to families."
For the sake of family harmony, let's hope schools manage to do just that this term.